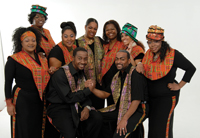 Celebrate Black History
There's a roster of music, dance, and special events to commemorate Black History Month. Check out these options below.
Djembe Beat
Kofi Osei Williams, percussionist and member of Asase Yaa African American Dance Theater, will perform on the Djembe drum. Learn authentic rhythms from the West African countries of Ivory Coast, Ghana, Benin, and Togo. February 5 at 2pm. All ages. FREE. Charles A. Dana Discovery Center, inside Central Park at 110th Street between Fifth and Lenox Avenues. 212-860-1370. www.centralparknyc.org.
Sing It Out
The world-famous Harlem Gospel Choir presents an interactive concert focused on their universal messages of peace, hope, and joy. February 6, 11am. All ages. FREE. Lincoln Center-David Rubenstein Atrium, Broadway between 62nd and 63rd Streets. 212-875-5456. www.lincolncenter.org/atrium.
Seneca Village Lecture and Walk
Join David Karabell, a New York City history enthusiast and long-time Central Park Conservancy tour guide, as he sheds light on the life and times of Seneca Village residents. Take a look at artifacts, maps, and the remaining archaeological sites located near Belvedere Castle (weather permitting). February 6, 1pm. All ages. FREE. Belvedere Castle, mid-park at 79th Street. 212-772-0210. www.centralparknyc.org.
The African Drum
The Shadow Box Theatre presents its annual shadow puppet show to celebrate African-American history. Listen to the wit, wisdom, and humor of The African Drum as it reveals "How the Turtle Got Its Shell" and two more African folktales, woven into the adventures of a little girl, Kijana, and her animal friends. February 7 at 11am. $15 advance; $20 at the door. Bleecker Street Theatre, 45 Bleecker Street. 212-260-8250. www.shadowboxtheatre.org.
Inside War
Acclaimed pianist/composer Vijay Iyer and poet Mike Ladd present Holding It Down: Songs of Experience, a new work of music and poetry that explores what it means for soldiers of color to move from a racially, ethnically, and socioeconomically complex America to the international context of war, and how it feels when they return home. February 10, 7:30pm. Teens and up. $15. Harlem Stage Gatehouse, 150 Convent Avenue at West 135th Street, Harlem. 212-281-9240. www.harlemstage.org.
Give Me Shelter
Learn about David Ruggles, the best known "conductor" of the Underground Railroad in New York City, with Frederick Douglass one of 600 fugitives whom Ruggles sheltered in his home. February 18 at 6:30pm. $12; FREE children under 12. New York Historical Society, 170 Central Park West. 212-873-3400. www.nyhistory.org.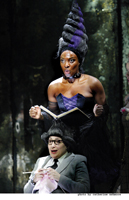 Fairytale Twists and Turns
The most beloved moments from classic fairytales are blended into a witty, gritty modern incarnation of music, theater, and fantasy, when The Enchanted Pig makes its U.S. premiere. In this offbeat and funny musical, beauty meets the beast once again when Princess Flora, the youngest of three gangly, gum-chewing sisters, learns her betrothed is a boar. Swept off to the north, she discovers that her husband is under a spell and only she can break it. The show features a live, six-piece band and a cast of 10. Appropriate for ages 7 and older. February 5-21. Times vary. $12.50-$35. The New Victory Theater, 229 West 42nd Street. 646-223-3010. www.newvictory.org.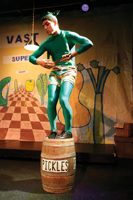 Musical Theatre of A Different Variety
A troupe of dancers and actors will perform a series of brief, witty poems and unique choreography that reveal the secret life of produce in The Festival of the Vegetables. Follow along on a whimsical journey as vegetable-people of all varieties jump and whirl in a salad of fun. Plus, see vivid costumes made of a combination of soft-sculpture-like original creations by Rachael Kosch and haute couture vintage gowns. Saturdays and Sundays, February 6-21 at 11am. Appropriate for children age 5 and older. $12; $10 children 12 and under. The Metropolitan Playhouse, 220 East Fourth Street. 212-995-5302. www.metropolitanplayhouse.org.
Become a Designer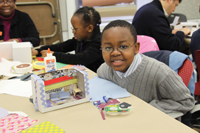 Learn how the stages of some of the biggest Broadway shows come together at a Set Design workshop at the Cooper Hewitt Museum. Get an opportunity to see the Rockwell Group's diorama stage sets for Hairspray, as part of the museum's current exhibit, Design USA. Then create stage set dioramas as the setting for a favorite story. Materials will be provided. Pre-registration required. Presented by the museum and the Center for Architecture Foundation. Appropriate for children ages 5 and older. February 6 at 1pm. $20/family. Cooper Hewitt Museum, 2 East 91 Street. 212-358-6133. www.cfafoundation.org.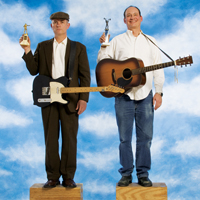 A Musical and Visual Experience
The singing-songwriting duo of Key Wilde and Mr. Clarke perform songs from their new album, Rise and Shine. These children's musicians create a zany and fantastical world with original, interactive songs ranging in style from bluegrass to '80s punk rock, and include their multimedia slide show featuring Key Wilde's whimsical illustrations. February 13 at 11am. $18 (advance), $19 (day of); $12 children (advance), $13 (day of). Symphony Space, 2537 Broadway. 212-864-5400. www.symphonyspace.org.
Funky Fun for the Family
The FunkeyMonkeys will perform a special Valentine's Day show at the Triad Theater on February 14. Dora the Explorer composer Josh Sitron presents the FunkeyMonkeys backing an eclectic array of guest singers, dancers, musicians, and comedians in this variety show for the whole family. Expect to see Afrofunk horn players, UCB improvisers, opera singers, and clowns sharing the stage. Showtimes: 2:30pm and 4:30pm. Ages: TOD, YE, AD. $15. 158 West 72nd Street. 212-362-2590. www.funkeymonkeys.com.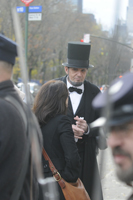 A Day Off and Free Fun
Spend the day off from school with some history lessons and fun at the Presidents' Day Programs and Exhibitions. Go on a mission to collect clues about Lincoln's whereabouts, and learn about our nation's 16th president and his journey from a log cabin to the White House. Plus, make crafts, meet Civil War reenactment troops, and learn about military life during Lincoln's tumultuous presidency. February 15, 10am-6pm. FREE. The New-York Historical Society, 170 Central Park West at 77th Street. 212-873-3400. www.nyhistory.org.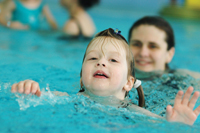 Free Swim!
Spend the winter break having fun in the pool at the Instructional Swim Class for Kids. Take a free lesson, learn techniques from professional swimming instructors, and learn more about the aquatics program. Appropriate for ages 5-18. February 16 at 4:30pm. FREE. The 14th Street Y, 344 East 14th Street. 212-780-0800. www.14StreetY.org.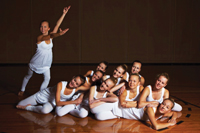 Art and Athleticism
See the aesthetic gymnastics club Lahjan Tytöt perform Aladdin. Lahjan Tytöt combines Finnish art and sport in an enchanting combination of high-energy modern dance, gymnastics, and traditional Finnish folk song and dance. February 25 at 5pm. FREE. Scandinavia House, 58 Park Avenue. 212-879-9779. www.scandinaviahouse.org.