Check out these great activities and events for children and families scheduled during the month of June in Manhattan. Whether you're looking to celebrate Father's Day, catch a kid-friendly show, or just enjoy the great outdoors, we've got all the information a New York City family needs.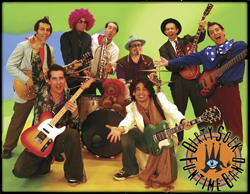 Get Down with the Dirty Socks
Help the Dirty Sock Funtime Band celebrate the release of its newest DVD at the Living Room. The band will play a concert, then host the New York premiere of the Dirty Sock Funtime Band Show. Lunch will be provided by Grandaisy Bakery, and attendees will have the chance to win a variety of raffle prizes, including an American Girl Doll, MLB merchandise, and props from the Dirty Sock Funtime Band Show.
All funds raised at the event will benefit Kids Creative, a non-profit organization that brings peace education programs to children throughout New York City.
June 6, 10am-1pm. Appropriate for all ages. Admission starts at $35. The Living Room, 154 Ludlow Street. 646-485-5123. www.kidscreative.org; www.dirtysockfuntimeband.com.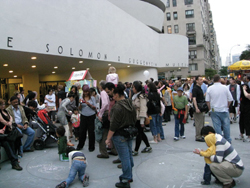 A Mile of Fun
The 32nd Annual Museum Mile Festival is a mile-long block party and visual arts celebration for the whole family. Festival attendees can walk the Mile on Fifth Avenue from 82nd Street to 105th Street (which will be closed to traffic), and visit nine of the city's finest cultural institutions, all of which will be free to the public. El Museo del Barrio will kick off the festivities at 5:45pm in celebration of its 40th anniversary. The Museum Mile will be filled with free art activities for children as well as live outdoor entertainment.
Participating museums include El Museo del Barrio, Museum of the City of New York, Cooper Hewitt, National Design Museum, National Academy Museum and School of Fine Arts, Solomon R. Guggenheim Museum, Neue Galerie New York, Goethe-Institut/German Cultural Center, and the Metropolitan Museum of Art.
The festival takes place Saturday, June 8, 6-9pm. For more information, visit www.museummilefestival.org.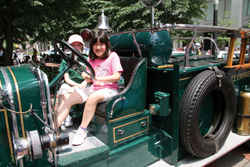 Take a Ride with New York's Finest
The New York City Police Museum hosts its 10th Annual Vintage Police Car Show on June 12, 10am-4pm. Visitors will have the opportunity to view a piece of New York City's history when the Police Museum displays classic patrol vehicles used by New York's Finest. Car owners will be on hand to show off their prized possessions and answer questions. The show is FREE and open to all ages. The New York City Police Museum is located at 100 Old Slip. For more information: 212-480-3100 or www.nycpm.org.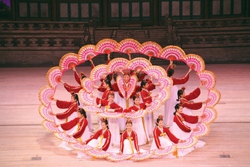 Salute to Our Service Men and Women
In honor of the 60th anniversary of the Korean War, the Little Angels Folk Ballet of Korea will perform as a token of gratitude for America's service during the war. The troupe, comprised of mostly girls ages 9-15, have performed at the White House, the United Nations, Buckingham Palace, and the Kremlin, and their professional level of dancing and singing has inspired audiences all over the world for the past five decades. Up to four complimentary tickets will be available for veterans and service members. June 15-16, 3pm and 7:30pm. $20 and up. Manhattan Center, 311 West 34th Street. Veterans and service members: 914-631-9262. General admission: 847-470-8705. www.kw60project.com.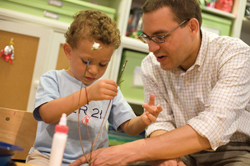 Celebrate Father's Day!
These local events are all about making Dad feel special.
JUNE 17
Create a "Green" Gift for Dad: Decorate a reusable, eco-friendly insulated beverage bottle as a gift for Dad. Space is limited. All ages. $5. 3-4pm. Sony Wonder Technology Lab, 56th Street and Madison Avenue. 212-833-7858. www.sonywondertechlab.com.
JUNE 19
Pizza Party: Celebrate Father's Day by making Dad a healthy and yummy whole wheat pizza. Younger kids can bring Dad along for the fun while older kids can bring the meal home to share. $60. 10-11am. Cupcake Kids!, 109 W. 27th Street, 10th floor. 646-789-5554. www.cupcakekids.com.
French Pastry Workshop for Kids: Kids bake chocolate cherry tartlets for Father's Day while they increase their French vocabulary; learn about techniques, utensils, and ingredients; and pick up basics of etiquette, nutrition, and kitchen safety. $55. 3pm. French Institute Alliance Française (FIAF), 22 E. 60 Street. 646-388-6612. www.fiaf.org.
I Love You Dad!: Kids ages 3 and up can enjoy a story time reading of My Daddy and Me, then make their dad a book with "Build-A-Book: A Book About Dad." 3pm. FREE. The Scholastic Store, 557 Broadway, between Prince and Spring Streets. 212-343-6901. www.scholastic.com.
JUNE 20
Little Club Heads Father's Day Party: Celebrate Father's Day with a family dance party for parents and kids ages 1-8. Enjoy face painting, a clown, cartoon characters, a balloon artist, and complimentary snacks. $15. 12pm. La Pomme, 37 W. 26th Street. 917-327-3268. www.littleclubheads.com.
Sunday Brunch and Family Art Project: Enjoy a special brunch with Dad, presented by Wave Hill's exclusive caterer, Great Performances. Afterwards, make a craft together. Reservations required. All ages. $22 per person for brunch; $13-$6.50 children for Family Art Project. 11:30am. Wave Hill, 675 West 252nd Street, Bronx. 718-549-3200. www.wavehill.org.
Father's Day at Harlem Lanes: Harlem Lanes invites all families to come out for a special Father's Day bowl. All ages. $6 per game, $3 children 12 and under; $5 shoe rental. 11am-11pm. Harlem Lanes, 2116 Adam Clayton Powell Jr. Boulevard. 212-678-2695. www.harlemlanes.com.
Inwood Fledgling Watch: Red-tailed hawks are dedicated parents that protect and nurture their young. Visit the proud hawk parents and keep your eyes peeled for their young. 10am. All ages. FREE. Inwood Hill Nature Center, Inwood Hill Park, Dyckman Street and Hudson River. 212-304-3401. www.nycgovparks.org.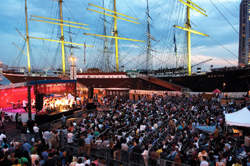 Big Fun for Families
Returning for its 18th year, Children's Day at the South Street Seaport is New York City's largest free family festival. Hosted by Gordon from Sesame Street, the day-long event will feature tons of kid-friendly entertainment, including performances by Angelina Ballerina, Princess Katie & Racer Steve, and the Macaroons. Kids can also meet some of their favorite storybook characters like Clifford the Big Red Dog, Curious George, and Madeline.
Daytime festivities will also include a variety of activities and crafts led by area children's museums and organizations, such as the Children's Museum of the Arts and Sony Wonder Technology Lab. Plus, visitors can enjoy face painting, a "pop up" playground, and free rides on the Seaport Express Train.
The day concludes at 7pm with concerts by the Brooklyn Youth Chorus and the Apples in stereo, followed at 9:30pm by a spectacular Target Fireworks show featuring two barges of Zambelli fireworks - the summer's first and only major pyrotechnics show visible from both lower Manhattan and Brooklyn.
June 26 at the South Street Seaport (Fulton Street at South Street). For more information, call 212-SEA-PORT or visit www.ChildrensDayNYC.com.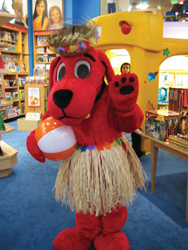 Beach Party!
Kids get a chance to meet Clifford the Big Red Dog during Clifford's Annual Beach Festival at the Scholastic Store on June 26. They'll also receive colorful leis, join limbo and conga lines throughout the store, and create their own seashell craft to take home. Festival starts at 3pm. Admission is FREE for all ages. The Scholastic Store is located at 557 Broadway, between Prince and Spring Streets. For more information: 212-343-6901 or www.scholastic.com.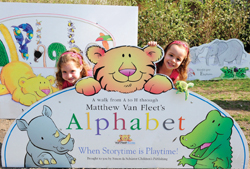 Wild Stories and Songs
Animal Tales Extravaganza is back with another month of live music from the top names in children's entertainment and readings from award-winning children's authors. Meet some of your favorite authors, like Holly Hobbie and Alex Beard, as they read their stories about animals. See top-rated children's entertainment like The Fuzzy Lemons and The Shushybyes perform their original music. Larger-than-life, interactive displays based on children's classics like The Very Hungry Caterpillar by Eric Carle allow children to walk through their favorite animal stories and experience them in a completely new way. Every weekend in June. $11-$15. The Bronx Zoo, 2300 Southern Boulevard, Bronx. 718-220-5100. www.bronxzoo.com.
Scales and Stories
Go on an aquatic adventure as you explore the fascinating world of life under the sea and popular children's stories at Fish Tales Extravaganza. Throughout the month, children get to meet their favorite authors and listen as they read their new and classic works. In addition, an entire schedule of live family entertainment, including popular children's talent like Gigi and the Lend Me a Hand Band and John Tartaglia's ImaginOcean will be available. Plus, children can make their very own "fish tale" books. Every weekend in June. Times vary. $17; $13 children. Wildlife Conservation Society's New York Aquarium. Surf Avenue and West 8th Street, Brooklyn. 718-265-FISH. www.nyaquarium.com.
For even more family events in Manhattan, visit our Online Calendar.