Related: Manhattan, NY, NYC, events, activities, kids, children, family, parents, May, 2010, things to do, calendar, Mother's Day, theater, shows, museum, outdoor, fundraiser, auditions,




Check out these great activities and events for children and families scheduled during the month of May in Manhattan. Whether you're looking to celebrate Mother's Day or Memorial Day, catch a kid-friendly show, or just enjoy the great outdoors, we've got the information an NYC family needs.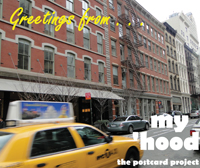 A Photo Project for Families
This month, Babesta Cribz in Tribeca kicks off Greetings from...My Hood: The Postcard Project, a community family project meant to encourage parents and children to view downtown through a different lens, and reconsider the details that make one's "hood" a home.
Babesta asks children ages 5-13 to take photos of their neighborhood that they think best represent home. Qualifying neighborhoods include Tribeca, Battery Park City, South Street Seaport, Chinatown, and the Financial District.
At two in-store events on May 4 and May 8, Babesta will hand out 100 disposable cameras. Kids will capture local images, then turn in their cameras at the end of the month, when Babesta will develop the film and post qualifying pictures in the store and online. A jury of experts and a community vote will narrow the submitted photos to 50 semifinalists. The top 10 will be produced in postcard packets that will be sold this summer to benefit the Lower Manhattan Cultural Council.
Babesta Cribz is located at 56 Warren Street. For more information and to reserve a camera: 646-290-5508 or www.greetingsfrommyhood.com.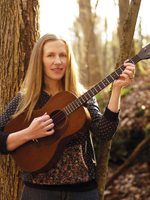 Music for Haiti
Children's musicians Elizabeth Mitchell, Laurie Berkner, and a few special guests join forces in a Family Matinee Benefit for Haiti at Joe's Pub. Families can stop by to rock out while they help raise money for earthquake survivors in Haiti. All ages are welcome. Saturday, May 8, 11am-2pm. $30; $10 children 10 and under; all proceeds go to Partners in Health. Joe's Pub is located at 425 Lafayette Street. For more information, call 212-967-7555 or visit www.joespub.com.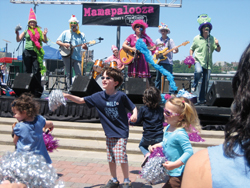 Celebrate Mother's Day
These events are all about making moms feel special.
MAY 3
Springtime Pajama Party at 74th Street Magic
Kids ages 3-5 can put on their PJs and get ready for Mother's Day with an arts and crafts project designed specifically to celebrate Mom. $35 per child. 5-6pm. 510 East 74th Street. 212-737-2989. www.74magic.com.
MAY 6
Family Workshop: A Scented Treat for Mom
After they watch Elmo's World: Families, Mail & Bath Time, children 6 and under can create scented bath products as a gift for Mom. $5. 3-4pm. Sony Wonder Technology Lab, 56th Street and Madison Avenue. 212-833-7858. www.sonywondertechlab.com.
MAY 8
Breakfast in Bed
Little ones can learn how to whip up breakfast-in-bed creations and make a craft to bring home for Mother's Day. $60. 10-11am. Cupcake Kids! 109 W. 27th Street, 10th floor. 646-789-5554. www.cupcakekids.com.
Marshmallow Mother's Day
Make Mom a Mother's Day treat out of raspberry, vanilla bean, or chocolate marshmallow (provided by Three Tarts Bakery). To register, call 212-255-2050 or email [email protected] by May 6. Included with Play Pass: $20. 10am-2pm. City Treehouse, 129A W. 20th Street. 212-255-2050. www.citytreehouse.com.
Family Art Project: Design a Bouquet for Mother's Day
Artist Esperanza Cortés will show you how to collage a unique bunch of blossoms or shape a spray of paper flowers for Mom using the gardens and woodlands as your inspiration. 1pm. $8; $2 children ages 6-18. Wave Hill, 675 West 252nd Street, Bronx. 718-549-3200. www.wavehill.org.
MAY 9
Brunch with Metropolitan Klezmer
Metropolitan Klezmer performs fresh repertoire and beloved favorites during this Mother's Day brunch. Reservations suggested. $10; FREE children under 13. Brunch seating from 10am; live band 11am-2pm. City Winery, 155 Varick Street. 212-608-0555. www.citywinery.com.
Mother's Day Brunch at Wave Hill

Treat Mom to a catered Mother's Day brunch. Reservations required. 11:30am. $22. Wave Hill, 675 West 252nd Street, Bronx. 718-549-3200. www.wavehill.org.
Mother's Day Tea Salon
Visitors can honor their moms by sharing stories and tea with artist Michele Brody, who will lead participants in creating a collective artwork to be exhibited in the museum. A tour of the museum is also included. $20; $10 children under 12. 1-3:30pm. Mount Vernon Hotel Museum and Garden, 421 East 61st Street. 212-838-6878. www.mvhm.org.
MAY 23
7th Annual Mamapalooza Outdoor Extravaganza
The day begins at 11am with a Yogathon. From 12-5pm, enjoy Tot Rock with renowned mom bands like the Swingset Mamas, Audra Rox, and Moey's Music Party. There will also be vendors, dancers, refreshments, giveaways, and family fare. FREE. Riverside Park South, Pier 1 at 70th Street and the Hudson River. 877-711-6667. www.mamapalooza.com.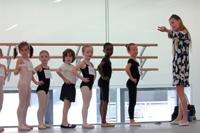 Dance Your Heart Out
The School of American Ballet (SAB), the official academy of the New York City Ballet headquartered in Lincoln Center, will hold auditions for new students on Saturday, May 8, at 5:30pm at the Harlem School of the Arts (645 St. Nicholas Avenue), as well as on Friday, May 14, at 6:30pm at P.S. 124 (40 Division Street). These auditions, open to children between the ages of 6 and 10, are for admission into the 2010-2011 winter term, which begins in September. Children will participate in simple musical exercises; no prior dance training is required. SAB offers scholarships to those who qualify as well as free attendance for boys. For more information, visit www.sab.org.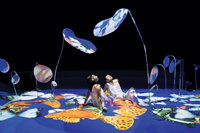 Interactive Theater
Watch as a world of digital botanic images responds in real time to the graceful movement of two dancers in The Butterfly Garden. After the show, young members of the audience will be invited to touch and explore the glowing interactive garden themselves. May 14-23; 4pm Fridays; 10:30am, 12:30pm, and 4pm on Saturdays and Sundays. Ages: TOD, YE. $17.50-$25. New 42nd Street Studios, 229 West 42nd Street. 646-223-3010. www.newvictory.org.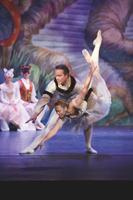 A Fairytale Classic on Stage
New York Theatre Ballet presents a special one-hour version of Sleeping Beauty for children ages 3-12 and their families. With music by Peter Tchaikovsky, the ballet delivers the magic of Princess Aurora's 16th birthday, the mystery of the enchanted spell, the magnificence of the wedding, and a perfect storybook happy ending. Before the show, audience members can learn behind-the-scenes secrets from Artistic Director Diana Byer. Show times are May 15 at 11am and 1pm; May 16 at 11am, 1pm, and 3:30pm. Florence Gould Hall, 55 East 59th Street. 212-679-0401. www.nytb.org.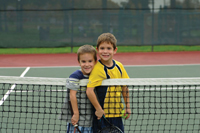 Free Tennis Lessons
The New York Junior Tennis League (NYJTL) will begin its annual Spring Community Tennis Program for ages 6-18. Children in all five boroughs receive free tennis instruction by USTA-certified instructors; tennis rackets to use during program hours; inter-borough competition for all levels; access to educational services, tutoring and scholarships; as well as the chance to participate in special events and field trips. The program runs April 19-June 27. Children can sign up at any NYJTL program location during the season; there is no registration deadline. A parent or guardian must register in person with their child at the location they choose to attend. For a list of participating locations in Manhattan and more information, visit www.nyjtl.org.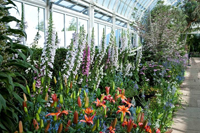 A Poet's Flower Garden
Take a poetic walk through the New York Botanical Garden with Emily Dickinson's Garden: The Poetry of Flowers, a special multi-venue exhibition focusing on the green thumb of an American literary giant.
Born in 1830 in Amherst, Massachusetts, Emily Dickinson stands out as one of the most prolific poets of the 19th century. During her life, however, she was better known for her garden at the Dickinson Homestead.
Drawing upon her numerous poems, letters, and notes, curators at the New York Botanical Garden have recreated the New England garden that Dickinson herself tended. Full of colorful arrays of her favorite flowers - droves of carefully arranged daisies, tulips, daylilies, jasmine, and more - the exhibit in the Enid A. Haupt Conservatory offers visitors a glimpse into her little known passion for botany as well as the sights and smells that inspired her lyrical work.
The Garden has also designed a replica of the Dickinson family property in Amherst. Visitors can stroll through the Homestead and her brother William's home, as well as the wooded pathway that joined the two. Guests can also visit the Mertz Library's gallery, where artifacts from Dickinson's personal life are on display, including letters, original manuscripts, photographs, watercolors, and a reproduction of her famous white dress.
Outside, more than 40 poetry boards and audio messages featuring Dickinson's poems guide visitors through the scenic gardens and provide information on her favorite plants.
May 1-June 30 at the New York Botanical Garden, 2900 Southern Boulevard, Bronx. $20; $8 children 2-12; FREE children under 2. For more information: 718-817-8700 or www.nybg.org.
For even more family activities and events in Manhattan, visit our Online Calendar.
---
Get Your FREE Indoor Activity eGuide!
---
More Recreation/Outings Articles
2010 Nassau Coliseum Fair in Uniondale, NY
DanceAfrica 2011 at BAM: Viva Cuba!
Brooklyn May Calendar Highlights: Family Activities
Spring 2011 Bird Watching Events in Westchester County, NY
Westchester County, NY, May Calendar Highlights: Activities for Families

Be a good fellow parent and share this with a friend who would be interested
Local Recreation/Outings Sponsors
See Our Recreation/Outings Directory