Check out some great family events scheduled this March in Manhattan, including an appearance by new author Kristi Yamaguchi, a variety of Purim celebrations, and a host of child-friendly shows.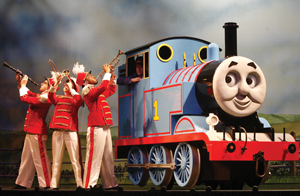 All Aboard!
When a powerful storm rips through the Island of Sodor, ruining the preparations for an upcoming lantern festival, all seems lost. Broken decorations litter the island, and without the brilliant glow from the lighthouse, the visitor's boats could get lost. In the musical adventure Thomas and Friends, the crew struggles to return the town to tip-top, festival-ready shape in time for the big event. Follow along as Thomas and his loyal buddies use music, teamwork, and fun to pull together and save the day. March 5 and 6 at 11am, 2pm, and 5pm. $25-$79. The Theater at Madison Square Garden, 4 Pennsylvania Plaza (Seventh Avenue and 32nd Street), Manhattan. 800-745-3000. www.ticketmaster.com.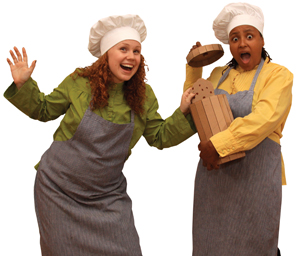 A Bag of Laughs
Catch the Paper Bag Players in their all-new show, Whoop-Dee-Doo!, where audience members can go fishing with a sea monster, learn to dance the Paper Bag Boogie, and play the world's funniest game show with the famous Paper Bag Players. Still performing after more than 50 years, the Paper Bag Players base their sketches on children's everyday experiences. Their combination of rousing songs, mime, audience participation, painting and drawing onstage, and use of household items as props blazed a trail for much of what we see in children's theater today. March 5-6 and 12 at 2pm. $15-$30. Kaye Playhouse at Hunter College, 68th Street between Lexington and Park Avenues. 212-772-4448.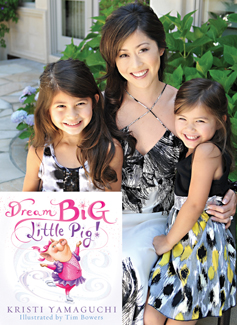 Dream Big, Little Pig!
Kristi Yamaguchi, mother of two and Olympic gold medal figure skater, has added another impressive title to her name: author. Yamaguchi has interpreted her motto, Always Dream, into a children's book called Dream Big, Little Pig! This inspirational tale features Poppy the Pig, who finds that following her dreams isn't always easy, especially when others doubt her. With the support of her family, though, Poppy realizes that she can succeed at anything as long as she believes in herself and has fun. On March 15 at 11am, Yamaguchi will stop by Barnes & Noble at 150 East 86th Street to read from her new book and meet visitors. FREE. 212-369-2180.
March is National Reading Month. Find story hours and more author appearances in our Online Calendar.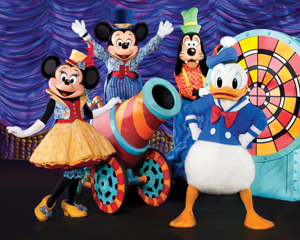 The Magic of Disney
Join Mickey Mouse along with Mad Hatter, Snow White, the Disney princesses, Goofy, and the rest of the Toontown gang, along with professional illusionist Brad Ross for an enchanting night of transformations, levitations, and a sawing in half. At the Disney Live! Mickey's Magic Show, kids participate, too, by assisting Ross on stage or in their seats in a few of his tricks. The Disney crew brings the Fantasia magic brooms to life, swapping Cinderella's drab attire for something more glamorous, and lifting Jasmine to great heights above the stage. March 17-18 at 11am and 7pm; March 19-20 at 11am, 2pm, and 6:30pm. $15-$125. The Theater at Madison Square Garden, 4 Pennsylvania Plaza (Seventh Avenue and 32nd Street), Manhattan. 800-745-3000. www.ticketmaster.com.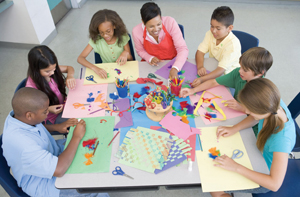 Learn How to Lend a Hand
The Junior League of the City of New York will host the flagship training course of G.I.V.E. (Get Involved, Volunteer Early) this month. In this program, children will be taught the principles of volunteerism and be encouraged to find their philanthropic passion. The second half of the course will be a hands-on experience in which kids will make cards and wrap pashminas, which will be donated to residents at a local eldercare facility. March 19, 1-3pm. For more information or to register, contact the New York Junior League at 212-288-6220 or visit www.nyjl.org.
Get Festive
Celebrate Purim with these family-friendly events:
Purim Carnival: Masks, games, puppet shows, and delicious treats are all part of this annual Purim celebration. Listen to the story of Purim and meet the heroes of the Megillah, Queen Esther and King Ahashverosh. Dress in your finest costume - prizes will be awarded. March 20, 10:30am-1:30pm. $20; $15 children; FREE children under 2. 92nd Street Y, 1395 Lexington Avenue at 92nd Street. 212-415-5500.
Musical Adventures with the Poppy Seed Players: See A Poppy Seed Purim, a musical play for children about Jewish heritage and life in New York City. March 20 at 11am. $20. Merkin Concert Hall at Kaufman Center, 129 West 67th Street. 212-501-3303.
The Mama Doni Band in Concert: The Mama Doni Band celebrates Jewish culture with catchy pop songs that break the mold of traditional Jewish music. It offers up a blend of reggae, rock, disco, Latin, klezmer, and "Jewgrass" - all woven together with a hip Jewish sensibility and a zany sense of humor. March 20 at 3:30pm; family craft activities begin at 1:30pm. Museum of Jewish Heritage, 36 Battery Place. 646-437-4200.
Annual Purim Carnival Extravaganza: Enjoy all new rides, games, and attractions. There will be food for sale, a silent auction, face painting, and more, followed by a hilarious and entertaining Purim Shpiel performed by the Y's own Not Ready for Purim Players. March 27 at 11am; performance at 2:30pm. $10; $5 in advance. YM & YWHA of Washington Heights & Inwood, 54 Nagle Avenue. 212-569-6200.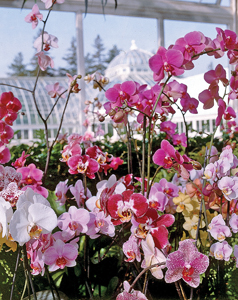 Broadway Blooms
Move over Billy Elliot and My Fair Lady! The orchid steals the show as the star of the horticultural endeavor aptly titled The Orchid Show: On Broadway. For the ninth anniversary of the New York Botanical Garden's second most popular exhibit, thousands of orchids overtake and decorate America's largest Victorian-style glasshouse, the Enid A. Haupt Conservatory. Acting as both Broadway stars and captive audience members, the orchids adorn sets inspired by three renowned theaters. In the Palms of the World Gallery, the orchids inundate an architectural rendering of the Walter Kerr Theater's famous curtain and proscenium arch. The other gallery exhibits present an orchid-packed promenade of the New Amsterdam Theater and a chandelier composed of the flowering plants, inspired by the glamorous lighting fixtures of the 42nd Street Theater. March 5 through April 25, 10am-6pm. $20; $8 ages 2-12; FREE under 2. New York Botanical Garden, Bronx River Parkway (Exit 7W) and Fordham Road, Bronx. 718-817-8700.
Also see: 2011 New York International Children's Film Festival Comes to Manhattan this March
Our Online Calendar, for even more family events in Manhattan and the New York metro area