Check out these great family events scheduled for the month of October in Manhattan - from Yo Gabba Gabba Live! on stage, to a medieval festival in Fort Tryon Park, to a Halloween-themed, kid-friendly night on Broadway.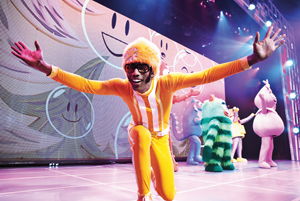 Yo Gabba Gabba Live
The popular Nick Jr. television show comes to life on stage at KIA Motors Presents Yo Gabba Gabba! Live: There's a Party in my City! See DJ Lance Rock, Brobee, Foofa, Plex, Muno, Toodee, and some surprise musical guests as retro-style and beat-driven music comes together to teach simple life lessons. October 2 at 2pm and 5pm; October 3 at 11am, 2pm, and 5pm. $40 and up. Radio City Music Hall, 1260 Avenue of the Americas. 866-448-7849. www.ticketmaster.com.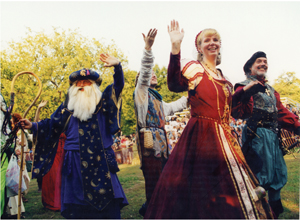 Thy Passport to Merriment Awaits
Camelot comes to Manhattan when Fort Tryon Park hosts its 26th Annual Medieval Festival. The festival is a unique chance to experience the medieval period in a most authentic setting. The area around the Cloisters in the park will be transformed into a medieval market village, where knights in armor, jugglers, jesters, magicians, musicians, storytellers, and puppeteers will perform, and artisans such as a blacksmith, pottery decorator, and woodcarver will demonstrate their crafts. To add to the fun, performers and other fairgoers will be dressed in period costumes. Highlights include historical music, dance, and song; demonstrations of medieval life and fashions; and a living chess match featuring medieval mayhem. The afternoon culminates with a jousting event between knights on horseback. October 3, 11:30am-6pm. FREE. All ages. Fort Tryon Park, 190th Street and Fort Washington Avenue. 212-795-1600 or www.WHIDC.org.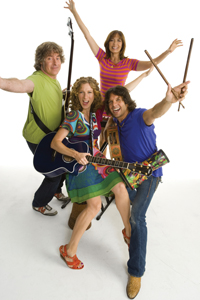 A Special Birthday
It's everyone's special day when the Laurie Berkner Band plays their LIVE Birthday Party Concert. Children are encouraged to wear a party hat and bring their favorite stuffed animal. Go to the band's website to download a picture of a birthday cake, color it in, and bring it for a chance to win a prize. Plus, Soles4Souls will be collecting pairs of new or gently used children's shoes for children in need. October 3 at 11am and 3pm. $25, $35; FREE babies under 1 (comp ticket must be picked up the day of the show). The Town Hall, 123 West 43rd Street, NYC. 866-448-7849. www.laurieberkner.com.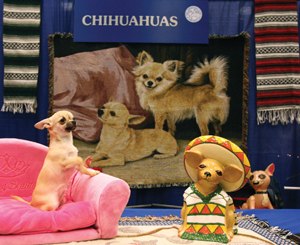 The Coolest Cats (and Dogs) in Town
See the world's largest showcase of dogs and cats when the American Kennel Club and Cat Fanciers' Association present the 2nd annual Meet the Breeds event at the Javits Center. Visitors will be introduced to every purebred breed of canine and feline, each presented in a "breed booth" decorated to depict the history of each breed. Doggie devotees and feline fans can interact with some of the rarest dogs, cats, puppies, and kittens while learning about their unique attributes directly from the experts. There will also be a variety of live demonstrations, such as dog and cat agility competitions, K9 search and rescue dogs, and grooming techniques. Kids can also enjoy a host of games and giveaways. October 16-17, 10am-5pm. $15 ($12 in advance); $10 children ($8 in advance). Jacob K. Javits Convention Center, 655 West 34th Street (between 11th and 12th Avenues). For more information, visit www.meetthebreeds.com.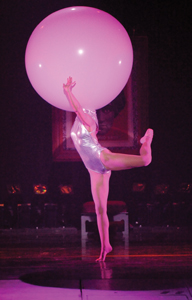 A Cirque-tacular Show
Catch Circurious, a heart-stopping, mind-boggling display of artistry and athleticism, when it comes to Symphony Space this month. The group's performance brings together the "wow" factor and star quality of the circus tent, concert hall, and Broadway stage, all in one show. The troupe includes aerialists, acrobats, contortionists, jugglers, illusionists, singers, dancers, and world record-holders, who will perform indescribable feats that will reignite your belief in human potential. October 23 at 2pm and 5pm. $13-$23. Symphony Space, Peter Jay Sharpe Theater, 2537 Broadway at 95th Street. 212-864-5400. www.symphonyspace.org.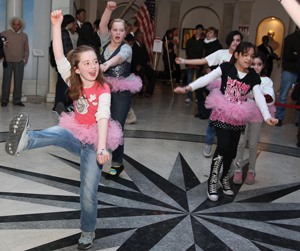 Broadway's Halloween Bash
On Halloween night, costumed kiddies might be tempted to ditch traditional trick-or-treating for an even more tempting treat. During a special Halloween edition of Kids' Night on Broadway, children ages 6-18 can see a participating Broadway show for free when accompanied by a full-paying adult. A Kids' Night ticket also includes restaurant discounts, parking discounts, a special kids' souvenir program provided by Playbill, and access to pre-theater parties, such as Madame Tussauds' Spooktacular Soirée. Participating Broadway shows include The Addams Family, Billy Elliot the Musical, The Lion King, Mary Poppins, Next to Normal, and Wicked. Off-Broadway shows include John Tartaglia's Imaginocean, Stomp, and The 39 Steps. October 31. For more information or to order tickets, visit www.KidsNightOnBroadway.com. Tickets can also be purchased via www.broadwayoffers.com or www.ticketmaster.com, or at individual theater box offices. Use Code KNOB2010.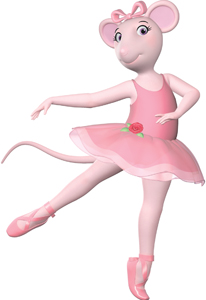 Angelina's Starring Role
Watch Angelina and friends (stars of the PBS Kids' series Angelina Ballerina: The Next Steps) perform all types of dance, from ballet to the Irish jig, when Vital Theatre Company presents Angelina Ballerina: The Musical, each Friday, Saturday, and Sunday through November 21. In the play, Camembert Academy hosts a special guest, whom each of the mouselings strive to impress. Find out if Angelina gets the starring moment she hopes for. Fridays at 4:30pm; Saturdays and Sundays at 11am and 1pm (select 3pm performances; see website). Tickets are $29.50-$49.50. Vital Theatre Company, 2162 Broadway, 4th Floor. 212-579-0528. www.angelinathemusical.com.