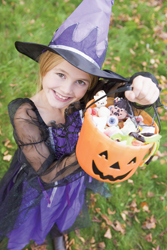 Halloween fun abounds around Manhattan this October, with activities for families and kids of all ages. Here are a few of our favorites!

It's Trick or Treat Time!
Halloween fun abounds around Manhattan this year, with activities for kids of all ages. Here are a few of our favorites, but be sure to check out our full calendar for more spooky museums, parks, zoos, parades, and contests throughout Rockland, Westchester, Fairfield County, Manhattan, Brooklyn, Queens & Long Island!
Halloween 'Dress Rehearsal' Party
Enjoy games, prizes, and a costume parade. Kids ages 3 and up who show up wearing their favorite costume will receive a free gift. October 21 at 3:30pm. FREE. Disney Store, 711 Fifth Avenue. 914-702-0702. www.DisneyStore.com.
After Dark
Take a tour in the darkness through the hallowed halls of Madame Tussauds, guided by only a single light. See the Scream exhibit, where spooky live actors present terrifying surprises. October 22-24, 29-31. 9pm. $20. Madame Tussauds Wax Museum, 234 West 42nd Street. 800-246-8872. www.nycwax.com.
Historic Halloween Day
Brave the darkness and join the spirits at this 19th-century historic house for an eerie, candlelit tour. The evening will include ghastly tales told by ghost storyteller extraordinaire Gerald Fierst. October 30 at 6pm. All ages. $15; $5 children under age 12. Mount Vernon Hotel Museum and Garden, 421 East 61st Street. 212-838-6878. www.mvhm.org.
Baba Yaga and the Pumpkin Fairy
The tale of a young girl raised by Baba Yaga comes to life on stage. Watch as she learns about friendship, magic, and adventure when she breaks one of the witch's rules and releases a pumpkin fairy into the world. October 30-31, 4pm. $25. Baruch Performing Arts Center, 55 Lexington Avenue. 646-312-4085. www.baruch.cuny.edu/bpac.
Healthy Haunted Houses
Build a sweet and healthy haunted house with graham crackers, icing, and assorted dried fruits. October 31 at 2, 3, 4, and 5pm. $10. Children's Museum of Manhattan, 212 West 83rd Street. 212- 721-1223. www.cmomstore.org.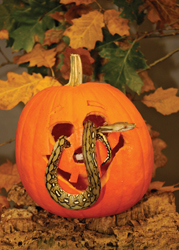 A Wild Halloween
Celebrate the holiday in a big way with Boo at the Zoo. Visit the resident bats, cats, and slimy creatures and then go on the Haunted Safari, through a bat cave, the belly of a snake, and a rainforest swamp. Go on the musical Scarecrow Adventure Hayride and then see animal-themed magic shows. Annie and the Natural Wonder band will belt out the tunes and the Wildlife Theater Players will perform an interactive, musical puppet show. Experts will be on hand to create animal shapes out of pumpkins too. Children who wear wildlife costumes get free admission when accompanied by an adult paying full-priced admission. October 10-11, 17-18, 24-25 and Oct 31-Nov 1, 10am-5:30pm. October 12, 10am-5pm. $15; $11 children 3-12. The Bronx Zoo. 2300 Southern Boulevard, Bronx. (718) 220-5100. www.bronxzoo.org.