HOLIDAY 0N THE RAILS

   What kid (or adult for that matter) doesn't enjoy watching a colorful train set chugging along under the holiday tree? For train enthusiasts, there is no better place to view a holiday train show than at the NY Transit Museum. The Sixth Annual Grand Central Holiday Train Show takes place through January 13, 2008 at the New York Transit Museum Gallery Annex in Grand Central Terminal. The New York-themed exhibit features an "O" gauge train layout and has several model trains gliding along through meticulously built holiday scenery. This year's trip begins on Christmas morning in a family's living room, and travels through a mini-sized New York City out to the suburbs, and ultimately to the North Pole to sneak a peek at Santa's workshop.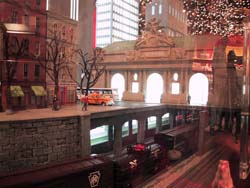 After taking in the train show, you can also tackle some holiday shopping at the Transit Museum Store, which offers a large selection of items for train buffs, including a stainless steel Manhattan subway map, model trains and buses, and subway logo T-shirts.
   The New York Transit Museum Gallery is located at 42nd Street and Vanderbilt Avenue. Info: (212) 878-0106; www.mta.info.
YULETIDE FOR THE YOUNGEST

  New York's premier musical mecca hosts its annual line-up of holiday concerts this month. Carnegie Hall continues their holiday music tradition with five holiday-themed concerts in the Stern Auditorium (including a Christmas Eve performance by conductor Jaime Laredo and the New York String Orchestra). The highlight for families is the performance by the Young People's Chorus of New York City on Saturday, December 15. This multicultural program, Holidays Around the World, is designed for ages 5-12 and offers kids the joyful experience of attending a live musical performance. Tickets are priced affordably at just $9. Carnegie Hall is located at 57th Street & Seventh Avenue, NYC. For more information: (212) 247-7800; www.carnegiehall.org.



AWARD-WINNING ACROBATS
   Catch The New Shanghai Circus at The New Victory Theater's 2007 Holiday Show. Skilled in Chinese Circus Arts, many of the feats performed by this talented troupe date back to harvest festivals 2,000 years ago.  Each performer is trained in overall acrobatics, but each one brings a unique blend of specialization to the show. Their contortionists, bicyclists, magicians, and jugglers have even made it into the Guinness Book of World Records for winning more medals than any other acrobatic troupe.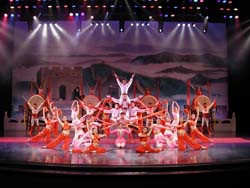 This show is part of New Victory's VicTeens series, which provides pre- and post-show events for teen-relevant performances. This program is offered to kids ages 11-18, and offers admission to the show for just $20, plus a private, teens-only behind-the-scenes look at the technical aspects of the performance.
   Tickets for regular performances range $15-$50. The circus runs through January 6, 2008. The New Victory Theater is located at 229 West 42nd Street. (646) 223-3010; www.NewVictory.org.
CELEBRATE KWANZAA
   Celebrate Kwanzaa on December 29 at the American Museum of Natural History; from noon to 5 pm, a festival with music, dance, workshops and crafts will commemorate the seven principles of the holiday.  The Ronald K. Brown/Evidence Dance Company will perform their special blend of African, modern, hip-hop, and ballet styles. The Allen Liturgical Dance Ministry will perform dance and choreo-drama focused on peace.

                        
   A Kwanzaa marketplace features vendors, visual artists, and craftspeople. Special food to celebrate Kwanzaa will be served in the museum Food Court. All activities are free with museum admission of $15 adults; $11 students and seniors; $8.50 children. The festival takes place in Milstein Hall of Ocean Life. Info: (212) 769-5100; www.amnh.org.
NAUGHTY OR NICE?
   Last year, it was The Magic Flute. This year, the Metropolitan Opera kicks off their Second Annual Holiday Series with a new production of Humperdinck's Hansel and Gretel. The Brothers Grimm fairy tale is a timeless children's classic and the show features a sophisticated score, especially designed to appeal to families and all ages in attendance, young and old. 
   On January 1, 2008, a matinee performance will be taped to be included in the second presentation of this season's Metropolitan opera: Live in HD, the series of high-definition transmissions that are distributed to movie theaters around the world.
   Performances take place December 24-January 31, and tickets range from $15 to $150.  Info: 212-362-6000 or visit www.metopera.org.
   The show starts on December 24, but on December 21, a free Open House event lets the audience in on the final dress rehearsal at 11am. Doors open at 10am, with exhibits and demonstrations.
SHOPPING WITH THE STARS

   If you're still in the midst of holiday shopping, relax for a night Under the Stars at Time Warner Center at Columbus Circle. Twelve 14-ft majestic stars hang from the ceiling of the Great Room, lighting up Columbus Circle. More than 8,500 LEDs make up the presentation, which claims to be the world's largest specialty crafted display of illuminated color mixing. The show begins at 5pm, and runs through January 2, 2008.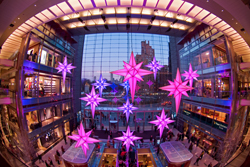 This month, the shops at Time Warner also have special holiday offerings.  Godiva will be giving away free samples on select dates throughout the month. Borders Books and Music offers Mommy and Me Storytime, every Wednesday at 10am & 2pm. Info: visit www.shopsatcolumbuscircle.com.