Manhattan mom Donna Slade launched Heidi's Home Design, LLC, in 2007. We sat down with Slade to discuss how she got her business started, what challenges she ran into, and how she manages the work/life balance. Slade also shares her advice for other mompreneurs.

Quick Facts:
Slade lives in Manhattan with her husband of 24 years, Elliott, and their daughters Laura and Shannon, 17, and Kimball, 14.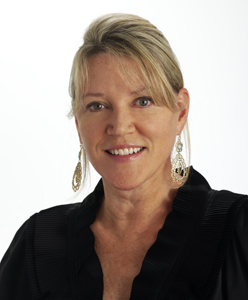 Donna Slade was a veteran designer, working on campaigns for clients of top-notch branding and advertising firms - but it wasn't until she became a stay-at-home mom, and had a full year while the kids were in school to develop her own lifestyle line, that she had to start marketing herself. In 2007, Donna launched her business, Heidi's Home Design, LLC, which encompasses two brands: ZOOCCHINI® includes stuffed plush animals, hooded towels, melamine dinnerware sets, and area rugs; and Crutch Critters® offers stuffed animals that provide cute cushioning for crutches. The company is entirely managed and operated by women, and the products are sold in more than 400 retail and online locations in the U.S. and internationally.
What was your "aha moment"?
There were actually two. One was for the name ZOOCCHINI®. I was trying to think of a name for this brand and I had designed a bunch of carpets that had safari themes. My friend had a product named ZOOCCHINI® but it never went to market. She told me to take the name, and it fit perfectly, and so I trademarked it. Then I was showing someone the carpet designs, and they told me they didn't think it was a carpet line, but a product line, and that I should do plush and package them well. So ZOOCCHINI® became a product and a brand, all at the same time.
How did Crutch Critters® come about?
When my daughter Laura was younger, she broke her leg very badly. She was pretty miserable - she was in a wheelchair and then on crutches for months. I made padding under the arm of the crutches with some of her little stuffed animals. So I had the idea, and when I went to manufacture plush, I sent out what I had done to the plush factory. They sent me back a sample and it was perfect. Crutch Critters® was really one of those mom ideas where you just see a need for it.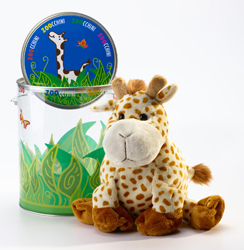 Did you have financing?
We were self-financed, but I've been talking to different investors now that we have a good track record behind us. We have periods of time when we have to pay a considerable amount of money to China to make sure our manufacturing begins. Before the product can get sent here, it has to be paid in full. As we get better, our demand for products is bigger and we have to place larger sized orders, so we're looking at how to manage this cash flow problem.
What advice do you have for moms who don't have financing?
There are a bunch of women-owned angel networks, and I think that's the best place to go at this point because the banks are a little unwilling to invest if you don't have a track record.
What were the steps involved getting your idea off the ground?
I went online and downloaded a bunch of business plans, because I'm a designer and that wasn't my thing. I put a business plan together as though I would have to finance it, and I thought about where I wanted to be in three to five years. I trademarked the brand names, and then I looked for a sourcing agent. Throughout this whole period, I kept talking to people and getting great information and advice. The pivotal thing that happened was that I hired a very good business manager, and that really changed the way we distributed the product. It also increased the sales tremendously. I judged where my strengths and weaknesses were and filled those gaps.
What do you wish you had known before you launched?
That I needed a business manager from the get-go. I thought I could do everything. When you're used to managing a family, kids, and everything else, you think you can do everything! If I had had someone in the beginning to help me make some of those decisions that I made alone, it would have been easier.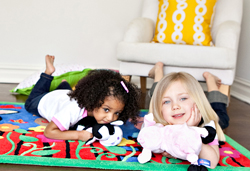 What were some challenges along the way?
One of the biggest challenges was the manufacturing. It's daunting thinking about how to get a product to market. There's so little manufacturing left in the U.S., you're almost forced to go overseas, and that's a struggle.
What's the best part of your job?
Win or lose, it's a lot of fun. I love working and I love that my daughters see me working. We have four tradeshows this summer and my daughters are coming to help me work the booths.
Any advice for a mom who's looking to start a business in the home sector?
My biggest piece of advice for anyone is to learn from your mistakes. In the home and lifestyle category, there are some beautiful products out there, so really research what you want to bring to market and know that it fits a niche and it's needed. If you have great designs but you don't want to manufacture, see if you can sell your designs. Also, take a deep breath when you feel you're overwhelmed, and have a support system, because there are days when you say, "Why did I do this?"
How do you manage the work/life balance?
I made a point of really thinking about that when I went into this. My daughters understand that I can't make everything anymore, but I do make as many things as I can.
Did you think you would have more flexibility?
I did. But you think about the business 24/7. In a way I have less flexibility because it's always with me no matter where I go. But I like doing it this way a lot more because I have more control.
What's next?
We've expanded into Europe and have really done well there. We're now looking to bring the product into Brazil and Australia.
For more information about Donna Slade and Heidi's Home Design, LLC, visit www.zoocchini.com or www.crutchcritters.com.