UPDATED SEPTEMBER 2014: A list of fun kids' birthday party places in Manhattan, including restaurants, gyms and sports facilities, and other places in NYC that host birthday parties for children. You'll also find caterers, party supply stores, and kids' party entertainers like magicians, clowns, and face painters in New York City, including those on the Upper East Side, Upper West Side, East Village, West Village, Midtown, Harlem, and beyond.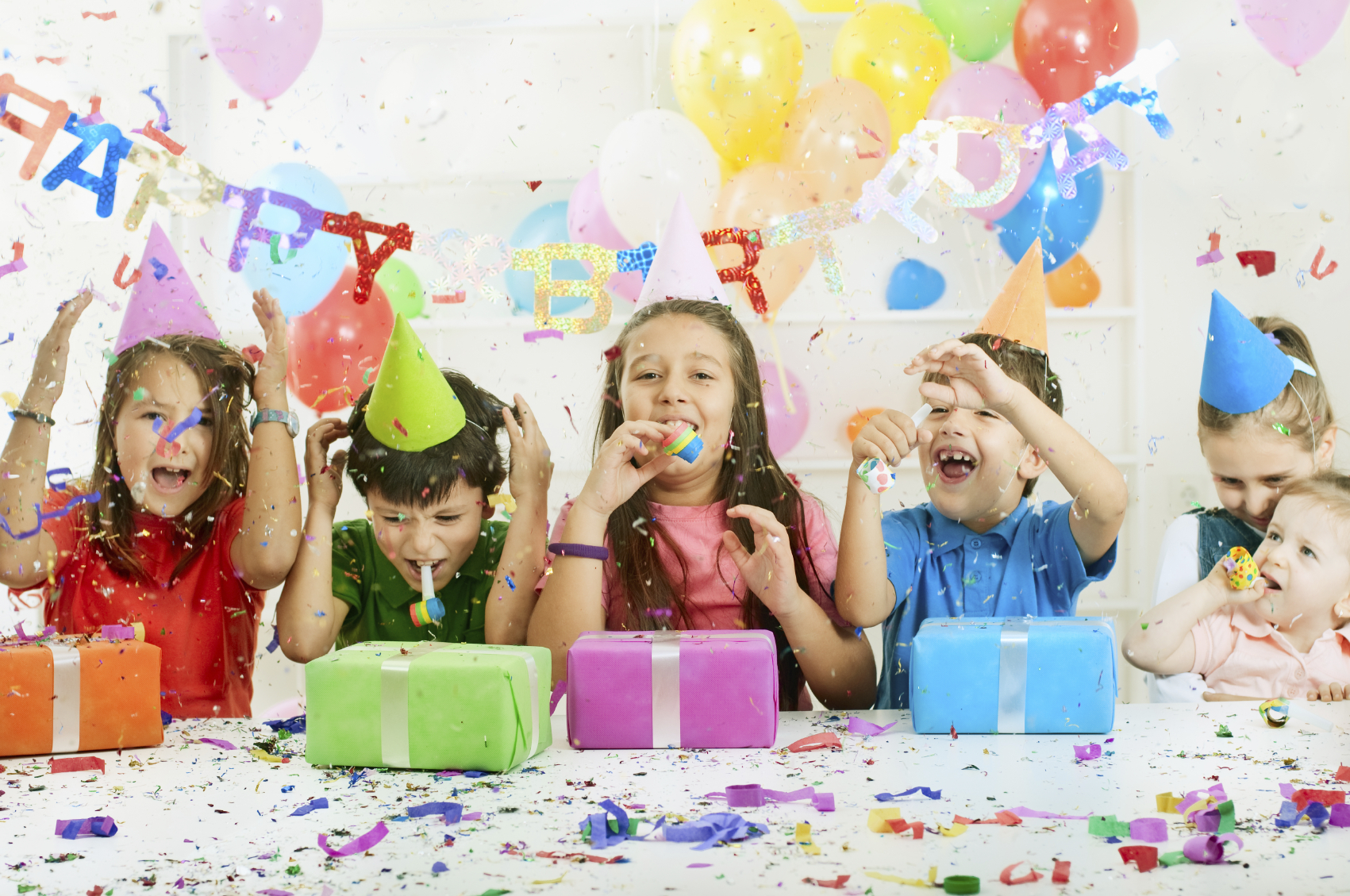 16 HANDLES
212-260-4416 x309
245 Bleecker St.
240 Lafayette St.
1569 Second Ave.
1161 First Ave.
325 Amsterdam Ave.
2600 Broadway
178 Eighth Ave.
153 Second Ave.
428 Third Ave.
Email [email protected]

Add some flavor to your child's next birthday party! With nine locations in Manhattan, 16 Handles is a fun and unique way to celebrate. With unlimited fro-yo to custom cakes, party rooms, store takeovers, awesome entertainment, and more, 16 Handles helps create the perfect party for any group. Let your child flaunt their flavor on their special day with 16 Handles!

A FAMILY DISCO
212-586-7425

NY Magazine's "BEST OF" parties for four years running! A Family Disco's dance balls are ideal for high-energy kids who love the limelight (and dancing grown-ups!). Real club and disco lights tots to tweens. A DJ plays dance games, kids sing at the mike, and dancers lead the latest moves. From cotton candy to chocolate fountains, disco cakes, and jumpy castles, A Family Disco is one-stop shopping. Superhero balls and princess parties include glitter artists and light-up tiaras. Or bring a disco to your home with A Family Disco's traveling entertainment.

THE ART STUDIO NY
145 W. 96 St., Suite #1B (between Amsterdam and Columbus, New York
212-932-8484
Email [email protected]

The No. 1-rated art studio in NYC! The award-winning Art Studio NY guarantees nurturing, fun, and engaging visual art classes, summer art camps, birthday pARTies, and more...for all levels, ages 2-102! For 10 years, the studio has been providing art programs that entertain, educate, and inspire the inner creativity of toddlers, kids, teens, and adults, with a combination of artistic technique coupled with customized art instruction. All art classes, parties, and programs are taught by professional artists. As seen on ABC, NBC, E!, in New York magazine, The Village Voice, and more!

ASPHALT GREEN
Upper East Side, 555 E. 90th St,
212-369-8890
Battery Park City
212 North End Ave. (at Murray Street)
212-298-2900
Asphalt Green Birthday Parties
Upper East Side
555 E. 90th St.
212-369-8890 x2085
Battery Park City
212 North End Ave.
212-298-2900 x2993

Celebrate your child's birthday party at either of Asphalt Green's locations: Upper East Side or Battery Park City. We provide a range of fun birthday activities such as sports, swimming, tumbling, cooking, music, and dance. Choose from three great party packages: Basic, Deluxe, or Extravaganza/Gourmet. Perfect for kids ages 3 and older.

BLUE MAN GROUP
Astor Place Theatre, 434 Lafayette St., New York
800-BLUEMAN (258-3626)

Blue Man Group is great for birthdays or any special occasion! This unique theatrical experience is a form of entertainment like nothing else, guaranteed to be an outing your group will never forget. Birthday party packages are available, and include the name of birthday child on the LED screen at the beginning of the show and a small merchandise item for each guest. The birthday child receives one 14-by-22-inch Blue Man Group poster.

BRONX ZOO
2300 Southern Blvd., Bronx
718-220-5132
[email protected]
Email [email protected]

Give your child a once-in-a-lifetime birthday adventure. Children ages 1-12 will enjoy a festive celebration in a private room with zoo staff to run the party for you. Guests experience up-close visits from some of our favorite animal guests, participate in party activities and games, and explore the amazing Congo Gorilla Forest exhibit with our expert education staff as their guides. It's a junior safari not to be missed! Contact us at [email protected] or 718-220-5132.

CHEF TONI'S COOKING ADVENTURES
967 Columbus Ave., Suite B1, New York
646-682-7769
Email [email protected]

"Cook, eat, and play with love" is more than just a mission statement at Chef Toni's Cooking Adventures…it's a way of life! We're a cooking school catering to hundreds of junior chefs, teaching them the magnificence of cuisines from around the world using ingredients found close to home. We also encourage healthy habits and sharpen etiquette, all while having a ton of fun. At Chef Toni's, we pride ourselves on creating memorable birthday parties for parents and children alike. Let us help you plan an extraordinary event your guests will never forget!

CHELSEA PIERS SPORTS AND ENTERTAINMENT COMPLEX
West 23rd Street and Hudson River Park, NYC
212-336-6500

Chelsea Piers is home to Manhattan's best sports-themed birthday parties. State-of-the-art facilities and world-class instruction combine with convenient party planning and packages for a fun and memorable birthday celebration! Preschoolers to teens choose from a variety of activities at the 23,000-square-foot gymnastics center, which includes in-ground trampolines, deep foam pits, and a rock climbing wall. Additional party facilities include indoor playing fields, a Little Athletes Exploration Center, basketball courts, batting cages, two indoor ice-skating rinks, a 40-lane bowling center, or the hi-tech golf driving range.

THE CITY CONGREGATION FOR HUMANISTIC JUDAISM
15 W. 86th St., New York
212-213-1002
Sunday KidSchool, PreSchool, and Adult Ed:
SAJ, 15 W. 86th St.
Shabbat programs:
St. John's Church, 81 Christopher St.
High Holiday Services:
Holiday Inn, 440 W. 57th St.
212-213-1002

The ultimate birthday party for a Jewish youngster is the Bar or Bat Mitzvah, a rite of passage into adulthood, generally at age 13. At The City Congregation (TCC), the innovative secular celebration follows a two-year, individual, mentored journey to discover personal beliefs, values, interests, and goals, as well as Jewish and/or intercultural roots and connections. Jewish history, culture, and ethics are learned in stimulating concurrent classes. The proud and joyous TCC Bar or Bat Mitzvah service and celebration is a memorable and meaningful once-in-a-lifetime birthday party! Join in!

CLOWNS.COM
Proudly Serving Westchester, Long Island, Queens, Brooklyn, Manhattan, and the Bronx,
718-971-5862
Email [email protected]

At Clowns.com, our goal is to create an unforgettable and memorable party experience for you and your family. We provide the highest quality children's entertainment and rental services in the industry. If you're looking for a professional, dependable, and enthusiastic team, you've come to the right place! We are a family-owned and -operated entertainment company, offering a wide range of party and entertainment services including clowns, inflatable bounce houses, characters, magicians, princesses, magic shows, face painting, and party concession rentals.

COZY'S CUTS FOR KIDS
448 Amsterdam Ave. (81st Street)
212-579-2600
1416 Second Ave. (74th Street)
212-585-COZY (2699)

It's the birthday party that's become a rite of passage for New York City girls—Cozy's Ultimate Beauty Bash, a private party at NYC's premier salon for children. Guests get the full glam treatment: manicures, makeup, and professional up-dos with glitter hair spray and all the works, plus music, dancing, and a beauty art project. For smaller groups, choose the Backstage Posse Pass, or the BFF Beauty Day, perfect for two besties. Cozy's glam squad can always come to you for a "Cozy-to-Go Glamour Party" at your home, party room, or favorite restaurant.

DAVE'S CAST OF CHARACTERS
914-235-7100
Email [email protected]

Make your party a special one! Dave's entertainment services include more than 100 costumed characters. From princesses and superheroes to pirates and tea parties, there's something for everyone. We feature DJs, clowns, magicians, face painters, balloon sculptors, photo booths, and food carts. Spectacular inflatable attractions include Wild One and Kong's Revenge obstacle courses, Cliffhanger Slide, and Mickey Park. Water fun includes the Big Kahuna and the gigantic Polar Plunge slides. New Robotic Animals. Frozen and Katy Perry parties. Enjoy bouncers, the Spiderman Velcro wall, gladiator joust, sports inflatables, robots, racecars, and more.

DR. BLOOD
212-645-1299
Email [email protected]

If your child likes scary stuff, he or she will love Dr. Blood, who performs a show where all the "experiments" are funny, gross, and scary. He'll chop off his hand, poke out his eye, and saw the birthday child in half with a real Black & Decker power saw. Kids get a Dr. Blood Kit full of tricks, and everyone is made up to look like zombies! For children ages 7 and older. (Fives and sixes enjoy a less-scary version.) And as always, "Free funeral if you are scared to death!"

FINGER PAINTED HANDS MONTESSORI PRESCHOOL
126 W. 83rd St. (Entrance at Firehouse 74 side), New York
212-595-5200
Email [email protected]

Celebrate your 2- to 5-year-old's next birthday party at Finger Painted Hands! Enjoy our beautiful party space and the best character entertainment, including face painting, balloon making, a dance party with a bubble machine, cotton candy, and a magic show. Two-and-a-half hour rental includes an assistant and access to our kitchen space.

HUDSON RIVER PARK'S PIER 62 CAROUSEL
Hudson River Park's Pier 62 (at West 23rd Street and the Hudson River),

The Hudson River Park's Pier 62 Carousel was created using 33 hand-carved wood figures of Hudson River Valley animals and one chariot, allowing for up to 36 passengers per ride. Enjoy the KidzKarnival on Saturday Oct. 25. Dress up and join the crowd for face painting, mask decorating, wax hands, cotton candy, spin art, rides, and more. Admission is FREE. Story Pirates will perform Halloween-themed improv throughout the day. For details, visit hudsonriver.org.

JODI'S GYM
244 E. 84th St.,
212-772-7633
25 Hubbels Drive, Mount Kisco
914-244-8811

Kids run, jump, climb, tumble, slide, bounce, and giggle to their hearts' delight at Jodi's Gym, where action-packed parties have won children's hearts for 32 years. Our bright, spacious facility is every child's dream. Teachers guide the children on bars, beams, rings, slides, tunnels, space bouncer, tumble track, and more. Next, it's off to a separate area for refreshments that we are happy to supply. Teachers set up, serve, and clean up. At Jodi's, the whole place is yours! You sit back and enjoy.

KARMA KIDS YOGA
104 W. 14th St. (bet. Sixth & Seventh avenues), New York
646-638-1444
Email [email protected]

At Karma Kids Yoga studio, children are encouraged to explore and discover their minds and bodies in a fun-filled way! Our Yoga Parties are unique, age appropriate, and include basic and challenging yoga poses, creative breathing techniques, fun yoga games, and relaxation time with foot massages. With multiple birthday party packages and themes to choose from, including My First Birthday Party, Yoga Mat Painting, Superhero Yoga, Butterfly Yoga, Circus Yoga, Yoga Spa Party, GLOGA–Glow in the Dark Yoga, Yoga Art, and Downward Doll. Come play yoga!

KIDS IN SPORTS
1420 Second Ave. (at East 74th Street), New York
212-744-4900
Email [email protected]

Since 1999, Kids in Sports has been offering specialized sports programs for children ages 12 months to 12 years. Our mission is to teach children the fundamentals of sports in a safe, fun, friendly, and supportive environment emphasizing sportsmanship, teamwork, respect, and communication. We instruct children in multi or sport-specific classes, focusing on baseball, basketball, flag football, floor hockey, lacrosse, soccer, and volleyball. We offer preschool alternative and after-school programs, in addition to hosting holiday and summer camps, and birthday parties throughout the year.

LET'S GOGH ART
917-704-0102
Email [email protected]

Let's Gogh Art NYC is a mobile, creative arts enrichment company delivering unique and imaginative multi-week classes, workshops, birthday parties, and events catering to budding artists ages 2-12 years. Our parties and programs are designed around a theme, (think Pirates and Princesses!, Rock Stars!, Super Heroes!), technique, or material. Hands-on activities, with a bit of whimsy and wackiness from the Gogh Art creativity crew, let art explorers think outside the box. The Let's Gogh Art NYC creativity crew travels to your party location bringing party hosts, glitter tattoo artists, and more.

THE LITTLE GYM - NEW YORK
2121 Broadway, 2nd Floor (between 74th and 75th streets), New York
212-799-1225
2121 Broadway, 2nd Floor (between 74th and 75th streets)
Upper West Side
212-799-1225
207 E. 94th St. (between Second and Third avenues)
Upper East Side
212-787-1124
777 White Plains Road, Scarsdale
914-722-0072
28 Franklin Turnpike, Waldwick, NJ
201-445-4444

A private party at The Little Gym is a perfect way to celebrate your child's next birthday. The 90-minute parties are supervised by our trained, professional staff from beginning to end. Gymnastics, games, obstacle courses, trampoline, sports, and music are tailored to your child's interests. Parties at The Little Gym mean exclusive use of the gym and party room. At The Little Gym, your child's birthday bash will be the easiest party you'll ever throw!

PARTY PLUS!
125 W. 109th St., New York
212-666-2197
Email [email protected]

Professionally-led activities, games, and crafts will keep 12 or more children happily engaged for two hours in our festive party setting. We provide pizza, juice, and a personalized birthday cake, plus party favors and balloons. Special theme parties can be arranged. Facilities include private outdoor space for active games.

RIPLEY'S BELIEVE IT OR NOT! TIMES SQUARE
234 W. 42nd St, New York
212-398-3133
Email [email protected]

Known for the bizarre and unusual, Ripley's Believe It or Not! in Times Square welcomes guests to experience the unheard of, unimaginable, and astonishing. Our remarkable collection includes the world's largest display of shrunken heads; an albino giraffe; locks of presidential hair; and dozens of interactive oddities. A birthday party at Ripley's will excite and impact your children in an unforgettable way! As one of NYC's most popular attractions, our aim is to inspire creativity, expand cultural understanding, and provide a birthday party experience that is fun, memorable, and easy to plan.

THE SCHOLASTIC STORE
557 Broadway (between Prince & Spring Streets), New York
212-343-6166

We provide the magic. You make all the memories. Our party planner will assist you with all of your party needs. Our party hosts will make this the easiest, most fun party you can imagine! Basic party includes party planner, two party hosts, online invitations, craft activity, music and dancing, story time, cupcakes, juice, and games. Choose from a variety of themes including Clifford's BIG Birthday Bash, Fabulous Fashions, and Wacky Science with prices and special features to match every budget.

SYMPHONY SPACE
2537 Broadway at 95th Street, New York
212-864-1414 x289

Just Kidding birthday packages are designed to make party-planning easy, engaging, and enriching! Two options allow kids to interact directly with Just Kidding artists, while enjoying tasty snacks, cake, music, and extra hands to help parents wrangle the kids! Families may choose between the value option: Just Kidding Theatre Party or the premium option: Just Kidding Front Row Party, which includes a customized performance by a Just Kidding artist. Rates for 15 or more attendees (ages 2 and older) begin at $550. For details, visit symphonyspace.org/group-sales-birthday-parties or call 212-864-1414 x 289.

VITAL CHILDREN'S THEATRE / VITAL THEATRE COMPANY
2162 Broadway, 4th Floor, New York
212-579-0528

Give the gift of theater! Celebrate your child's birthday at a production of Vital Theatre Company's Pinkalicious, The Musical, The Butterfly Girl, or Peace Love and Cupcakes, The Musical. Your group of 10 or more will receive a special birthday discount ticket price. The cast will sing "Happy Birthday" to your child after the show. Meet and greet the actors, and take photos with the cast. This opportunity is for the show only. Vital Theatre is not able to provide pre- or post-party facilities at the theater.

WILDLIFE CONSERVATION SOCIETY BIRTHDAY PARTIES

The Wildlife Conservation Society offers a menu of birthday parties to meet your needs. For a more traditional party with a party room, a party host, live animal encounters, and fun activities, try the Prospect Park Zoo or the Queens Zoo. For a party with a cake option, the Bronx Zoo will certainly be a great choice. We offer a "dream come true" party experience at the Central Park Zoo, which is an all inclusive affair with a full wait staff, theater performances, custom cake, and unique animal encounters.