Related: music time new york, elizabeth silva, classes, music, education, children, kids, manhattan, nyc,




When Elizabeth Silva started bringing her oldest daughter to music classes about four years ago, she quickly realized the drawbacks of a large class size: Her daughter and many of the other children became overwhelmed and weren't responding to class activities. Fueled by her frustration, Silva used her master's degree in music and experience as a professional singer to start her own music program with smaller class sizes for children ages birth through 5. When the mom of two moved from Tallahassee, Florida, to Manhattan last fall, she brought the business with her and dubbed it Music Time New York.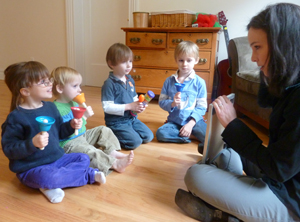 Classes, which are held in Silva's apartment, are limited to five children and require the participation of a parent or caregiver. The curriculum introduces music to kids through developmentally appropriate activities, ranging from finger plays to addition and subtraction.

Music education is important for all children, Silva says, and especially in a competitive academic environment like New York. "Practicing music actually produces lasting changes in the brain that enhance the general ability to learn," she says. "Children who have musical abilities develop better decision making, problem solving, and critical thinking skills."

Enrollment is ongoing; see website for class schedule. Call for location. For more information: 347-687-1448 or www.musictimenewyork.com.


Also see: Our After-School Resource Guide for the New York metro area
More Local News - Manhattan Articles
Social Learning Center Offers Alternative to Day Care
Jen Rudin Casting Offers Kids Improv and Audition Workshops
Manhattan Fourth-Grader Wins $10,000 to Make Over Her School's Cafeteria
French-English School Relocates Preschool, Expands Middle School
American Israeli Preschool Offers Drama, Dance, Soccer

Be a good fellow parent and share this with a friend who would be interested
Local Local News - Manhattan Sponsors
See Our Local News - Manhattan Directory