The four crew members from NASA's Atlantis STS-135 space shuttle, the organization's last space shuttle mission, stopped by the American Museum of Natural History's Rose Center for Earth and Space to answer the questions of hundreds of local children.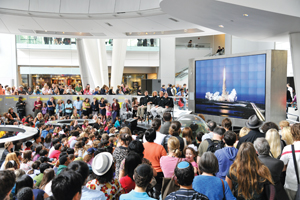 Commander Chris Ferguson, pilot Doug Hurley, and mission specialists Sandy Magnus and Rex Walheim of Atlantis STS-135 showed a video that highlighted the evolution of NASA's Space Shuttle Program throughout the last 30 years.
On July 21, NASA space shuttle Atlantis STS-135 landed back on Earth after a 13-day mission to the International Space Station, officially marking the end of NASA's 30-year Space Shuttle Program. On August 16, four astronauts from that final mission, including Commander Chris (Fergie) Ferguson, made their first New York public appearance at the American Museum of Natural History.
The crew, who entered the museum's Rose Center for Earth and Space to the famous opening fanfare of the 1968 sci-fi classic film 2001: A Space Odyssey, was greeted by hundreds of young people who were filled with questions for the astronauts about their zero-gravity experiences.
"I just want to say that flying in space is really, really cool," said Atlantis pilot Doug Hurley, a New York native, to the kids crowded around the stage. "And one of you guys down here, hopefully, will be the person that walks on Mars in a few years. So work hard in school and stay out of trouble."
When it came time for the Q&A part of the event, kids posed questions like, "How do you become an astronaut?", "What's the best thing you can do in space that you cannot do on Earth?", "What did you do for fun in space?", "What do you eat in space?", "Does having no gravity make your stomach sick?", and "What, in your opinion, is a good quality or trait for an astronaut to have?"
And the crew had some inspirational answers. To the latter question, mission specialist Sandy Magnus responded, "I think you have to have a love of learning. Being in school is just like being an astronaut. As an astronaut, you're constantly learning things every day. It's a lot of fun."
Click here to watch the video of the entire event