Team Perry, led by the Zimmerman family, helped NYC's 2011 Cycle for Survival raise more than $4 million for rare cancer research at Memorial Sloan-Kettering Cancer Center.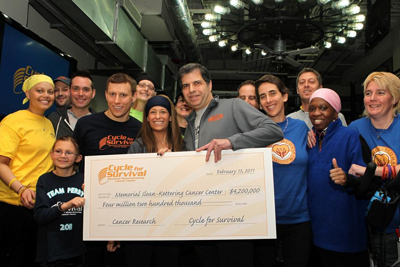 Cycle for Survival founders Jennifer Goodman Linn and David Linn (center), along with Perry( left) and other rare cancer survivors, present a check for $4.2 million to MSKCC.
On February 13, the Memorial Sloan-Kettering Cancer Center (MSKCC) hosted its fifth annual Cycle for Survival event in New York City, and the indoor team cycling fundraiser raised $4.2 million for rare cancer research.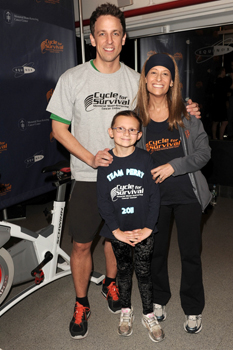 Returning to the event this year were 10-year-old Upper East Side resident and cancer survivor Perry Zimmerman and her family (Team Perry), who have a personal reason to support the cause. When Perry was just 2 years old, she was diagnosed with retinoblastoma, a rare genetic cancer of the eye. After battling eye tumors and finding that the cancer had spread to Perry's brain, doctors told parents Anne and Larry that her chance for survival was in the "single digits." But Perry, now the older sister to three siblings (Lizzie, Luke, and Susannah), beat the odds: Thanks to the treatment options available at MSKCC, she has had no trace of cancer since completing her treatments in 2003.
"Part of the reason Perry was successfully treated was because there was a treatment option available for her type of cancer. However, this is not the case for every type, and many people that are diagnosed are faced with limited options," says Anne Zimmerman, Perry's mom. "The more we can contribute to the funding of research studies and clinical trials at MSKCC, the more treatment options will result, and the more success stories like Perry's there will be to tell."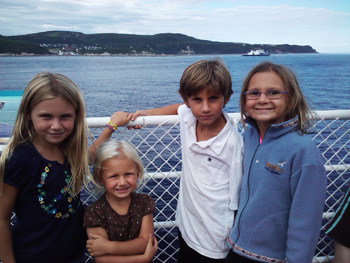 At press time, Team Perry had raised nearly $100,000, which will be directed to Perry's Promise Fund to support research and new treatment options for retinoblastoma and pediatric brain tumors.
MSKCC's Cycle for Survival fundraising pages are open through April 1 for donations. To donate or learn more, visit www.cycleforsurvival.org.