The Ohmies combine song, dance, adventure, and yoga moves in their interactive summer show at the Peter Jay Sharp Theatre in Manhattan.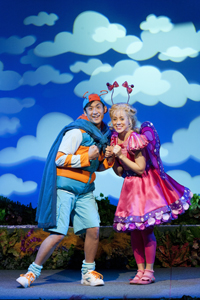 Tiny Ones: Get ready to stretch your imaginations as well as your legs, arms, bodies, and tee-hee muscles. Parents: Prepare to keep up with them (there's a giant yoga mat free-for-all, plus an ongoing photo-op-a-paloooza!). Why, you ask? The upbeat musical that hits preschoolers in the wide-eyed, ever-changing world where they live is back in the Big Apple: The Ohmies: Morning Wish Garden!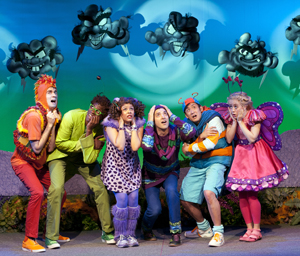 For those new to The Ohmies, they're an irresistible group of Technicolor BFFs from nature -- Bella Butterfly and her kid brother Carlin Caterpillar, Gisbert the Grasshopper, Daisy Dog, and Sylvio Snake -- who have taken over the Peter Jay Sharp Theatre on Theatre Row with song, dance, adventure and yes, even yoga moves, much to the delight of the animated audience members who join them on an interactive journey from Magical Meadow to Giggly Gulch to Bubble Bog to the Sock Forest and (finally!) to Sleeping Bluff, where together they give Mr. Sun a much needed wake-up call. (You see, Mr. Sun is the only one with the necessary solar power to make everyone's Wish Garden bloom!)
CAST
The appealing young cast is comprised of Jessica Stewart (Bella); Hansel Tan (Carlin); Kyle Scatliffe (Gisbert); Ashley Tobias (Daisy) and Benjamin Fisher (Sylvio), and while the age recommendation is three to eight, savvy two year olds are certainly ready, willing and able to boogie-down to the catchy original score that runs the gamut from pop to hip-hop to salsa.

HOW TO DISCOVER YOUR INNER OHMIE
A. Visit the show's website: www.theohmies.com
B. When ordering tickets for The Ohmies: Morning Wish Garden, enter OHMO4 to receive a $5 discount off the regular $35 ticket price
C. Put on your coolest and most colorful socks (or bring them along if you're wearing flip flops) and dress in your comfiest stretching and wiggling clothes
D. Head to the Peter Jay Sharp Theater at 412 W. 42nd Street, pick up your tickets from the friendly box office people, take the elevator to the 4th Floor (restrooms are on the 3rd Floor, FYI)
E. On entering the theater, stash shoes and stuff in the handy cubbies to your left, and march all the way down to the humongous antimicrobal fitness mat that covers the floor in front of the stage. If you're shy and don't want to join the other kids and parents on the mat, you can sit in the audience seats and still join in. (You can always change your mind and go down later.)
F. Take as many pictures as you like during the show...and don't forget to have your photo taken with the cast afterwards!
SHOW DETAILS
The Ohmies: Morning Wish Garden is currently running through September 25
Performances are Thursdays at 11am; Saturdays at 10am, noon, and 3 pm; and Sundays at noon and 3 pm
Free stroller parking; water and Ohmie-licious merchandise available for purchase
Also see: Zarkana: Cirque du Soleil's Latest Outrageous Hit
Our online calendar, for even more summer shows and events in the NYC area