HERE'S A SWITCH

Kids' clothing boutiques usually have a few playthings. Now FAO Schwarz, known for its toys, has added more clothing. The Zutano store within a store features their entire line, with a preemie Itzy Bitzy collection through size 4T. FAO Schwarz is at 767 Fifth Avenue (58th Street), (212) 644-9400. You can also buy Zutano at www.zutano.com.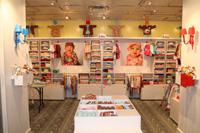 UPPER EAST SIDE DOG

Yoga improves body sense and concentration for many practitioners; now little kids can get into the act on the Upper East Side with Yogi Beans, which has classes for babies and kids up to age 13. There is a drop-in Mommy and Me class at Metro Mini's, and a drop-in class for ages 8-10 at Exhale Spa, both on Thursdays. For information on other classes, go to www.yogibeans.com or call (917) 843-8209.


STROLLER SHOWCASE

Maclaren has its first NYC showroom with more than just its classic stroller. The showroom offers walk-in repairs of its strollers ('buggies', in the company lingo), strollers available on loan if a longer repair is required, and stroller trials so you can test one out on the city streets. The store also features an exclusive line of natural and organic body care products for babies and pregnant women and new moms, made with essential oils. There are also baby carriers and Lacoste baby clothes and the expanded Kate Spade line of Maclaren strollers and accessories. The store is at 150 Wooster Street, between Houston and Prince; call (212) 677-2700 or go to www.maclarenbaby.com for more information.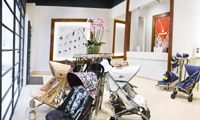 DO-OVER

The Scholastic Store in Soho has had a makeover, and is even more fun with an 11-foot dinosaur, a walk-thru Magic School Bus, and expanded Klutz activity area. There are also a lot more bilingual and Spanish books and games. The store always has great activities, including story hours on Tuesdays and Thursdays and special events on Saturdays. The Scholastic Store is at 557 Broadway, between Prince and Spring Streets; (212) 343-6166 or www.scholasticstore.com.