These Manhattan businesses have introduced new programs for kids. Read about new offerings from Soccer by Coach Fher and the Rabbi Arthur Schneider Park East Day School.

Fun, Flexible, and Friendly Soccer
Soccer by Coach Fher, an after-school program for kids up to age 10, opened its fourth location this October at 270 W. 84th Street. The location offers a new program, entitled "Kick and Run," that introduces 2.5-year-olds to the world of soccer, fostering early skill development in a fun and flexible environment.
Coach Fher's philosophy is that soccer can build confidence in children, through teamwork and a positive attitude. "Our coaches," Fher says, "not only bring their technical skills to class, but they create so much laughter and so many friendships that the kids come running back each week for more!" Understanding that the New York lifestyle is a busy and rigorous one, Fher remains flexible and reliable. "We've been known to create classes based on the needs of our families, inviting them to organize a group and time," he says.
With a coach-to-child ratio of one-to-six, classes are meant to be individualized and productive. Coach Fher personally monitors each class, working with the members of his staff "as a team, trying to create the best experience we can."
Locations: 270 W. 84th Street, 236 W. 73rd Street, 82nd Street and West End Avenue, 340 W. 21st Street. 917-650-3008.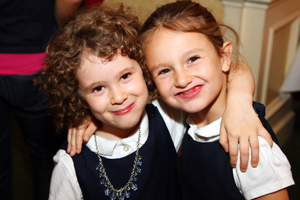 Integrated, International Education
This fall, Rabbi Arthur Schneier Park East Day School debuted a new engineering program geared toward its fourth through eighth grade students. The program, which features hands-on education in engineering, offers students the ability to determine "practical solutions to real-life problems," says Barbara Etra, principal of the school. "The students are applying math and science to real life."
Also new this fall is the school's early childhood discovery program, for children ages 3 to 5, which allows students to delve deeper into topics that interest them. For example, Etra notes that recent lessons have covered themes varying from oceanography, to the solar system, to transportation.
The "boutique" school, distinguished in math, science, and technology, offers an integrated academic and Judaic education for students in preschool through eighth grade. Students are also afforded the opportunity to meet and talk with prominent businessmen, politicians, and world figures through the school's Visiting Dignitaries Program. The idea is to make international immersion part of students' everyday lives. "They think this is normal," Etra says. The goal, she adds, is to help students "see they're part of a greater world."
Rabbi Arthur Schneier Park East Day School is located at 164 E. 68th Street. For more information: 212-737-7330 or www.raspeds.org.