These businesses -- including the Joffrey Ballet School, Moey's Music Party, and Planet Han -- are offering new services for Manhattan kids and families.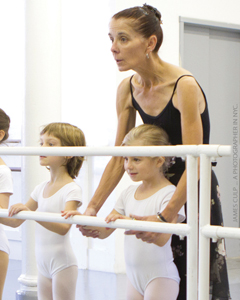 JBS Steps Ahead, with a Family Focus
Opened in 1953, the Joffrey Ballet School (JBS) is a Greenwich Village institution that offers instruction in both classical and contemporary ballet. The school recently added an array of programs to its children's department, which caters to kids ages 2½ to 6 and boasts the only dance school curriculum approved by the NYC public school system.
Beginning this month with a special in-house Nutcracker Suite, the school's youngest students will now present biannual performances, says Christopher D'Addario, executive director. Additionally, the school now hosts holiday parties for these young students and their families (examples include Halloween and Valentine's Day celebrations). Both of these new offerings, D'Addario says, strive to bring families together and help parents become more involved in their children's lives. "The overall concept behind the school is that we're a family business," says D'Addario, whose grandfather founded the school. "We want your family to grow along with us."
Last month, JBS also began offering movement-focused birthday parties. Guests can choose from four different themes and optional add-ons like a magician, photographer, and custom cupcake decorating.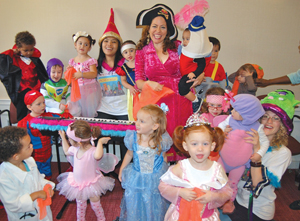 Moey's New Party Spot
Moey's Music Party is a band led by award-winning off-Broadway songwriter Melissa Levis, better known as Moey to thousands of parents and children. Since 2005, Levis has offered Mommy & Me music classes, a fun musical learning program for children ages 4 months to 6 years old and their parents. In September, her classes moved to the New York Junior League on the Upper East Side.
"Every music class is like a fabulous birthday party," says Levis, adding that she uses instruments, props, and a different theme each week to introduce children to multiple musical styles and teach them basic phonics. Participants get the added bonus of a take-home present at the end of every class.
Parents can take a trial class for $10 or drop in with their child during their favorite theme week for $35. Registration for the winter semester is now open, and parents can save $50 when they mention Big Apple Parent.
Moey's Mommy & Me classes are held at the New York Junior League, located at 130 East 80th Street. For registration and more information: 917-680-6739; [email protected]; www.moeysmusicparty.com.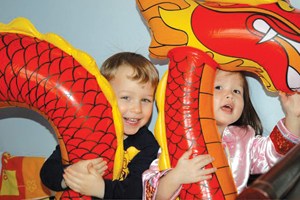 Learn Mandarin on Planet Han
Planet Han, a language learning center for children ages 2-12, opened in May on the Upper West Side. The center aims to teach young children of all ethnicities to speak Mandarin Chinese as a second language. Beginner through advanced classes are offered for all age groups, and parents can also get involved in the learning process by sitting in on classes during Parents Open Days.
"It's important for our children, in our growing global world, to know a second language," says Irene SauKing Coeny, founder of Planet Han, adding that she thinks Mandarin is particularly important because she believes China will be the future.
Teachers at Planet Han take a Model, Act, Talk approach in helping students master Pinyin and other basics, such as colors, shapes, and conversational skills. Classes have a maximum of six students. Planet Han takes pride in this small class size, which allows teachers to personalize their teaching methods to suit a child of any age, Coeny says. Additionally, audio of the next day's class is sent home with children to allow parents to listen along with their student.