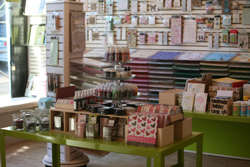 It's a Snap!
Turn your photos into lifetime memories at PortraitBug, which combines a portrait studio and scrapbooking store. The portrait studio is open every day and welcomes walk-ins; packages start at $99.99, and there are no sitting fees. You can commemorate your baby's first year of life with the Baby Snaps Panel, which includes three photos matted and framed for $89.99. Or, for a quick and simple gift option, you can create a six-photo Brag Book in just 15 minutes; choose from six different hardcover cloth colors. Looking to scrap any photos you may have? "Sit 'n Scrap" for as long as you want, for only $10 per person (scrapbook paper and embellishments are extra). Children can get into the scrapbooking fun with Play Date Parties, where they bring in their own photos and create a friends mini-book. Special events include a monthly Ladies Night Out and weekly Breakfast Club, as well as a host of specialty classes. Located at 2466 Broadway between 91st and 92nd Streets. Open Monday-Saturday 10am-8pm, Sunday 11am-6pm. For more information call 212-699-0889, email [email protected], or visit www.portraitbug.com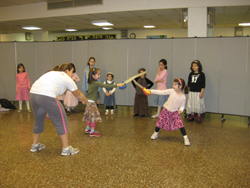 Fight the Obesity Villain
You might not think that combating obesity could be fun, but think again. The Fit Pit, an award-winning children's fitness company, has just brought its Superhero Academy to the Upper West Side. The program, developed by a personal trainer/early childhood educator for children ages 5-12, helps kids achieve and maintain a healthy weight by training to become superheroes. Included in their training are a variety of superhero-themed activities including climbing, flying, speed training, and fencing. Children work in small groups with those of similar ages. Classes, which last 45 minutes to an hour, are held Sunday 11am-7pm and Monday-Thursday 7-9pm. Twice-a-week one-on-one sessions are also available. Children's progress is evaluated every six weeks. For more information, call 1-888-353-1762, email[email protected], or visit www.fitpitkids.com.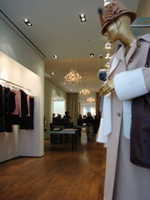 Not Your Mama's Maternity
If you want to look chic while expecting, the new Rosie Pope boutique in Soho is for you.The store, at 78 Greene Street, eschews elastic for well-cut clothes that you may want to continue wearing, at least for a couple of months postpartum; the store will alter clothes for free after you have the baby.Find classic cashmere sweaters, silk tops and a couture line. And if you are taking the baby out on the town, check out the evening clutch that fits a diaper. 212-608-2036; www.rosiepopematernity.com.