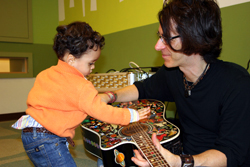 Singing Seedlings
The children's playspace apple seeds has added a new kids' music program, "songs for seeds," for babies and children up to 5 years old. Each week the class features a three-piece band (guitar, keyboard, drums) that encourages kids to interact with music. Children can "join the band" by dressing up and playing an instrument, "sing with the band' as each of their voices are recorded to make up a group song, and "picture a song" by creating nursery rhymes through art and song. The program also "travels around the world," using music from a different country every week, and includes magic tricks to illustrate numbers and counting. Each class is 45 minutes long, offered on a 16-week semester basis for $592. apple seeds is located at 10 West 25th street. 212-792-7590; www.appleseedsnyc.com.
Old Time Treats with a Twist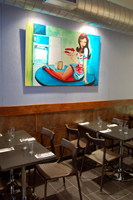 Mama's Mudsliders is an antidote to fancy dessert bars. This restaurant (which also has sandwiches) features retro treats like milk and cookies, but with a twist. Alongside your homemade cookies, you can have a decidedly modern drink — goat or soy milk.
Kids will find plenty to choose from: a brownie sandwich that has a filling of homemade peanut butter ice cream; a s'mores popsicle where you dip the marshmallow and graham cracker in chocolate sauce; or a fried peanut butter, banana and honey sandwich that mixes sweet and savory. Adults may want to try the signature Mudslider (homemade chocolate espresso soda, chocolate and coffee ice cream). Sit at the bar to really step back in time.
And the prices are, if not in the 1950s, at least more like 2005: desserts are $5-$10, and sandwiches are $5-$7.50. Mama's Mudsliders is open Tuesday-Saturday 11am-midnight, and Sunday 11am-10pm. 120 Christopher Street (between Bleecker and Bedford). 646-414-4447; www.mamasmudsliders.com.
Personal Parties
Planning your child's birthday party? As its name implies, Creative Dream Parties lets you cater to his or her passions. It offers a choice of theme — from princess or pirate, to spy, mad scientist and more — and once the fun gets going, there are projects related to that theme, such as designing t-shirts or going on an adventure hunt with the staff. Children also dance under a disco ball and strobe lights while bubbles are blowing, play dancing games such as jumping on bubble wrap, take part in name games, and enjoy a lunch of pizza and juice, soda or water. For dessert, it's ice cream sundaes and a group singing of — you guessed it! — "Happy Birthday." The birthday child gets to take home a giant birthday card signed by all the guests. Extras, including face painting, goody bags, and a piñata, are also available. The company provides all the supplies, sets everything up, and then cleans it up after the party.
In addition to its location in a 2,900-square foot facility at 25 Waterside Plaza, on 23rd Street and the FDR Drive, Creative Dream Parties has opened a new location on the upper level of the Language Workshop for Children, at 888 Lexington Avenue on the corner of East 66th Street (weekends only). For more info: 212-447-7263; www.creativedreamparties.com.