Check out these new additions to Manhattan that cater to kids and families.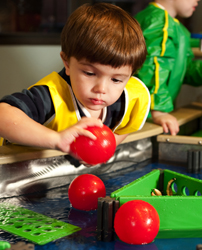 A Bigger "Backyard"
City Treehouse, a children's play and learning center in Chelsea, has added sleepover parties to its birthday party menu. The sleepover package can accommodate 10 to 20 children, who "get the run of the place," says Sydney Price, owner and founder.
"We're the backyard New Yorkers don't have," Price says. "It's like they have their own big house to stretch their family out in."
Like its other party packages, sleepovers are customizable. Parents can come in with their own party ideas or themes and City Treehouse will coordinate with them to make them a reality, Price says. The center has so far hosted a Hula Party with hula dancing lessons and a Camping Party with a flashlight scavenger hunt and New York style s'mores.
City Treehouse boasts the largest water play area in the city, Price says, and also houses a large open play area and interactive treehouse. The center also recently added a downstairs room with a sand table, giant white board, and large ball pit.
In addition to the various music, art, language, dance, and movement classes it hosts, the center recently began offering weekly playgroups for babies and toddlers and support groups for new moms.
Located at 129A West 20th Street. 212-255-2050. www.citytreehouse.com.
Accessible Art

ArtXplorers, cocreated by Natasha Schlesinger, founder of ArtMuse and ArtKids, is a recently launched live-action series meant to introduce kids to art in a fun and interactive way.
ArtXplorers uses video, TV, and the Internet to introduce kids to art. Last summer, Schlesinger and cocreator Mindy Mervis launched the series' website, www.ArtXplorers.com, which offers snippets of full-length shows. Mervis adds that the business has been in talks with several potential broadcasters.
ArtXplorers.com also includes interactive games and up-to-the-minute explorations of current museum exhibits in video and audio format. "The premise is to acclimate kids to art in an entertaining way," Mervis says. "Kids in New York have all these museums in their backyard, but many don't get to take advantage of them."
The website also offers visitors the opportunity to book a live museum tour or birthday party tour with Schlesinger at any of New York's major museums. Birthday party tours can be customized according to the age and interest of the child, Schlesinger says. The mission of the tours is to help spark kids' curiosity about art and get them started in producing artwork on their own, Schlesinger says. "We want to make art accessible in every way."
For more information, visit www.ArtXplorers.com.
A Healthy Start
Organic Life Now, a holistic health counseling center, opened in November. Owner Theodora Rodriguez, a holistic health counselor and personal chef, counsels her clients in a six-month program to help them attain an overall healthier lifestyle, which can be split into four main pillars: relationships, career, physical activity, and spirituality. What sets her program apart, Rodriguez says, is that she recognizes "no one diet works for everyone. We are all individuals and we all have different needs." Rodriguez works with all age groups, and is available to counsel families on how to make fast, nutritious, and healthy meals.
In January, Rodriguez partnered with PS 129 to offer a morning "Meet and Greet" program for parents, to help them become more involved in their children's education and nutrition. During these morning sessions, the students enjoy an organic snack while Rodriguez holds a mini workshop for parents, explaining what it is their children are receiving.
Rodriguez says she plans to expand the program into other area schools in the future.
Organic Life Now is located at 111-113 137th Street. 917-412-2722. www.organiclifenow.com.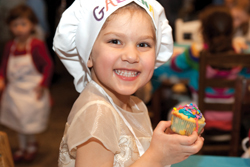 New Home for Little Cooks
Cupcake Kids! has a new home at 109 West 27th Street, which opened last month. With a space of its own, including a fully equipped kitchen, activity corner, and store stocked with cooking tools and accessories, Cupcake Kids! will now offer more cooking classes, camps, and special events, says Jessi Walter, owner and founder.
Cupcake Kids! will host birthday parties at its new location, Walter says, but will still offer customers the option to hold parties in their own home or at a different location in the city. Parties are either 90 minutes or 2 hours long, depending on the age of the chef, and include apron decorating, a cooking activity of the birthday boy or girl's choice (from pretzels to lasagna), and a craft activity while kids wait for their creations to cook.
Cupcake Kids! will also begin offering camps during school vacations and will host 10 weeklong camp sessions this summer, Walter says.
Also new is Taste Buds, a weekly hands-on cooking program for ages 2 and up. Taste Buds will differ from other cooking classes offered in the past because it will be more focused on the camaraderie and nutrition aspect of cooking, Walter says.
Located at 109 West 27th Street at 6th Avenue. 646-789-5554. www.cupcakekids.com.