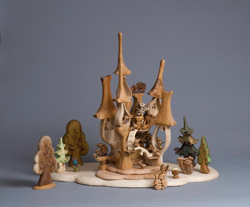 A Toy Store with a Global Conscience
Playing Mantis, an eco-friendly store offering handmade toys and crafts from around the world, recently opened a new location in Tribeca. The store's flagship location is in Nyack, NY.
Owner Imelda McCain says she was originally inspired to open the store when she became a mother and began playing with toys again. "My muse is my son," McCain says, referring to 9-year-old Lucas. McCain says she hopes to teach Lucas and other children the importance of sustainability and thinking globally through the toys she offers. "In order for children to respect a toy or craft, they should know where it came from and the process it took to make it," McCain says. "Knowing that process is not only educating, but also quite inspiring."
That's why products sold at Playing Mantis are made with natural, organic products (like wood or wool) and come from small, unrepresented businesses. Also, none of the toys are battery or electrically powered, McCain says-they're powered by imagination. Items include novelty items like handmade dolls from Peru, Argentina, and Kenya; musical instruments made in Sweden; and teddy bears made from recycled fur coats.
Open seven days a week, 10am-8pm. Located at 32 North Moore Street, 646-484-6845. Also at 19 North Broadway in Nyack, 845-358-5670. www.playing-mantis.com.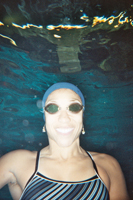 Swim Lessons for Life
Last year, Agnes Davis heard a startling statistic: The second leading cause of death in children is drowning. Determined to make a difference, Davis, a swim instructor and former competitive swimmer, opened swim swim swim i say last August. It is now the only swimming instruction program based in the Upper Manhattan/Harlem area.
The company offers private and group swim lessons for tots, children, and adults, ranging from the basics to competitive instruction. By teaching both children and adults, the program combats child drowning rates from both sides, Davis says. "If you're an adult and do not swim, there's a 65 percent chance you'll have a child who doesn't know how to swim," she says.
The program is "multifunctional," Davis says, because it is designed for people in all different stages of life, including, for example, those who have a distrust of water, athletes using swimming for rehab purposes, and those with special needs.
Swim swim swim i say continues to expand its services, and will offer summer programs for all ages and skill levels this year.
Lessons are taught at the Marshak Pool on the City College campus (138th Street and Convent Avenue). For more information, call 917-902-3184 or visit www.swimswimswimisay.com.