Check out these new additions to NYC that cater to kids and families.
Summer Isn't Just for Baseball Anymore...
Kids of Summer, a sports program for kids based on the Upper West Side, will offer a basketball camp this summer for children ages 8-14. The camp will run for six weeks, starting July 12, and campers can sign up for as many weeks as they like, says Mike Handell, the director.
Kids of Summer will also continue to offer its summer baseball camp for children ages 6-14, which it has run for the past nine years. The baseball camp starts June 21 and will run for 11 weeks. A new option available to campers is a dual camp program, Handell says, in which kids can participate in a half day each of basketball and baseball.
"It's a camp that really works with all levels of players," Handell adds. He attributes this flexibility to the camp's policy of limiting the number of campers each week, so that kids can learn in small groups with other campers of similar age and ability.
Kids of Summer also runs several year-round programs, including school vacation camps, winter clinics, and after school programs, and is available for birthday parties.
Camps are held in Riverside Park and birthday parties can be held at a convenient field or gym. For more information: 917-572-2423 or www.kidsofsummer.com.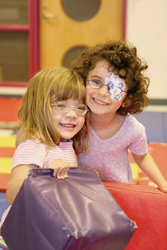 More Room to Grow and Learn
The Lighthouse International Child Development Center has added a new classroom, and this month it will begin offering a second class for children who are visually impaired and multiply disabled.
The Child Development Center is a division of Lighthouse International, an organization dedicated to fighting vision loss. The center, which opened in 1967, offers preschool programs, including two classes for children who are visually impaired and several integrated classes for children both with and without visual impairments. It is one of four schools in the nation that uses this integration approach, and the only one in the New York metro area, says Principal Greg Santamoor. Students with visual impairments are treated the same as those without, Santamoor notes, which strengthens socialization skills, heightens cognition, and increases acceptance and confidence in all students. "Parents come away with the message: 'My child, who is visually impaired, can do anything a nonvisually impaired child can do,'" Santamoor adds.
The center has also recently expanded its parent center, which provides training for parents so they can better help their children at home, and has "gone green" by converting much of its communication from paper to online.
Located at 111 East 59th Street. 212-821-9600. www.lighthouse.org.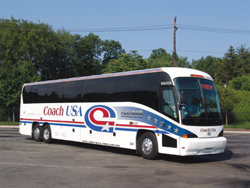 Express to the Meadowlands
Coach USA is now offering the 351 Meadowlands Express, a nonstop, round-trip bus service from the Port Authority Bus Terminal to the New Meadowlands Complex in East Rutherford, New Jersey. The bus is also convenient to the Izod Center and Meadowlands Race Track.
The 351 begins service two hours before a scheduled event at the Meadowlands and continues frequent service thereafter, says Mike Alvich, vice president of marketing for Coach USA. The bus usually departs from Gates 305 and 306 in the Port Authority Bus Terminal, but for larger events, such as rock concerts and major sporting events, the bus departs from a street level departure area on 41st Street between 8th and 9th Avenues.
"It's a very convenient, comfortable, safe way to get to the Meadowlands, and it's the most economical way to go," Alvich says, citing money saved on gas, tolls, and parking, along with less stress in commuting. "Plus, families can sit together and pick up on some of the excitement of the event before they get there."
One-way trip time is about 20 minutes and costs $5 per person ($10 round-trip). For more information, visit www.351express.com.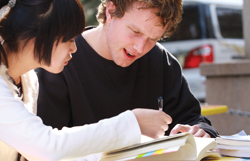 Tailored Tutoring
Mosaic Tutoring, a one-on-one, in-home tutoring service, opened in March.
Mosaic tutors come to your home and work with your student's curriculum, says Cory Zacker, founder. The service caters to K-12 students and includes all academic subjects, as well as test prep and college counseling. Qualified tutors are available to work with mainstream, special ed, and homeschooled children, Zacker adds.
An important component of the service, Zacker says, is matching each student with the right tutor, which is why she offers in-home consultations. "I get to know the child so I can make the right match," she explains. As the mother of an 11-year-old son with learning disabilities, she has learned the importance of student-tutor matchmaking from personal experience. "No matter how brilliant the tutor is, it's not going to work if they can't connect with the child."
Mosaic Tutoring's approach is distinctive, Zacker says, due to her dual background in education and parenting. "I'm on the board of directors at my son's school, but I'm also coming at it as a parent who's seen her child struggle with academics and really needed the right kind of assistance," she says. "I can relate [to parents], and I have someone who can help."
For more information: 646-410-2700; [email protected]; www.mosaictutoring.com.