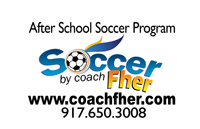 Soccer by Coach Fher
Soccer by Coach Fher, a specialized development program for kids ages 2-12 , is offering four new classes this fall. The first, Kicking and Tossing, is a beginner class for ages 2-2.5 which uses beach balls to teach basic skills and serves as a "warm up" for higher-level classes. On the opposite end of spectrum is the new Advanced Level class for ages 5-12, where children learn more complex skills. Also new is a Spanish soccer class, taught completely in Spanish, for ages 2.5-12. This class is offered to both fluent speakers and those still learning the language that wish to improve both their soccer skills and Spanish fluency. Similarly, the new Bilingual soccer class for ages 5-7 uses both English and Spanish language instruction.
These classes and others are offered Monday through Saturday each week. All instruction is based in Coach Fher's philosophy that soccer training should be fun and should engage children both physically and mentally. For more information, call 917-650-3008, e-mail Coach Fher at [email protected], or visit www.coachfher.com.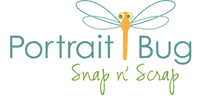 PortraitBug
The Upper West Side's PortraitBug, a baby, pet, and family photography studio, recently announced this season's classes. Adult classes include subjects such as scrapbooking, sewing, crafting, card making, camera instruction, and gift-wrapping. Kids, Tweens, and Teens classes instruct students projects like creating a memories mini book or constructing an advent calendar. Parents and kids can collaborate on projects in the studio's new Mommy & Me classes as well. Also new for the upcoming holiday season are modern holiday cards. After sitting for a portrait, customers pick their own style of holiday card to bring home.
PortraitBug has been hosting birthday parties in its studio since April, but is now offering a crafting-to-go package for at-home birthday celebrations. Kits include materials for collage or mini book making. A teacher will also come to the party to instruct guests.
Owner Kim Brooks opened PortraitBug in December 2008, after the birth of her daughter. Her frustration with the high sitting fees charged at traditional portrait studios in Manhattan led her to start her own take on the business: an "eclectic" space that includes portrait studio, scrapbooking space, birthday and party venue, and classroom. Located at 2466 Broadway, between 91st and 92nd Streets. 212-600-4457. [email protected]; www.portraitbug.com.
Upper 90 Soccer + Sport is a new soccer supply and retail store located on Amsterdam Avenue. Opened September 10, the store specializes in training and athletic equipment and apparel and sells everything from soccer shoes, shin guards, and balls to team uniforms and professional soccer team replica jerseys.
In addition to its selection of soccer merchandise, Upper 90 Soccer + Sport runs the Brazilian Touch Soccer School (BTSS), which offers soccer training for kids ages 4-17 at all skill levels. Afterschool classes, weekend programs, and mini camps are offered at various locations. BTSS exclusively uses Brazilian-infused soccer instruction methods and incorporates elements of Brazilian culture, including language, music, and playing style, into every training session. The school is currently offering an afterschool program on Mondays and Wednesdays at Booker T. Washington Field and a Saturday morning clinic in Central Park. For more information, call 646-233-4265 or visit www.braziliantouchsoccer.com.
Upper 90 Soccer + Sport is located at 697 Amsterdam Avenue. 646-863-3105. www.u90soccer.com.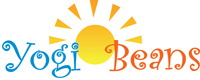 Yogi Beans
Yogi Beans, a yoga program that caters to children between the ages of 2-and-a-half and 12 years, opened their Upper West Side location on September 14. The new spot serves as the businesses' home studio.
Lauren Rosenfeld, owner and certified yoga and Pilates instructor, says the mission of Yogi Beans is to help children feel more confident, and to increase self-esteem, body awareness, focus, and concentration through practicing yoga. "We translate yoga into a language that kids can understand and enjoy," Rosenfeld says.
Yogi Beans offers Kids Classes, Mommy & Me Classes, Family Classes, Prenatal Classes, and a free weekly community class, Yogi Tails, throughout the year. Birthday parties and private group classes are also available at any Yogi Beans location or at your location.
Located at 131 W. 86th St between Amsterdam and Columbus. Multiple locations in uptown, midtown, and downtown Manhattan, as well as Brooklyn, Hoboken, and Scarsdale. 212-787-9642. www.yogibeans.com.