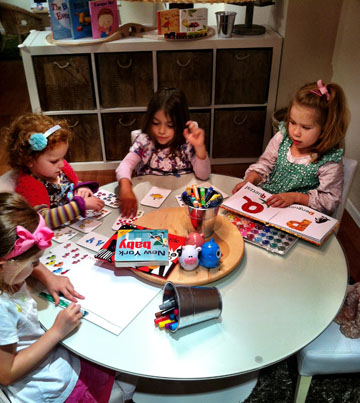 Rina Patel, who has been an educator for the past 12 years, is using her knowledge to open Book Nook, a unique pre-kindergarten school for Manhattan "Hoots"—Patel's fun name for her students. The school not only teaches children to read and prepares them for kindergarten, but it allows them to socialize and transition into being away from their parents while at school.
"It is essential to teach literacy skills at a young age. Children need to know that reading is fun," Patel says. "If they don't enjoy [reading] then they won't be able to enjoy other subjects in school."
The school offers 90 minute classes one day a week for 34 weeks for children ages 1½ to 6. The groups are separated by age (Lil' Hoots, Kiddie Hoots, Pre Hoots, and Kinder Hoots) and classes have no more than six children. The classes prepare children for kindergarten exams and acceptance, and run from September to June. Book Nook also offers classes for kindergarten and first grade struggling readers, with classes Monday-Friday, 3:30-5pm.
Book Nook provides a cozy home environment in a school setting, with books from wall to wall, allowing kids to come in and relax from the time they take their jackets and shoes off at the door, to the moment they go home at the end of the class. Interested parents can schedule a time to take a tour of the space and learn more about the curriculum.