Spotlight on Language
The New York Chinese Cultural Center (NYCCC), a 36-year institution, is expanding its programs to focus on Chinese language education.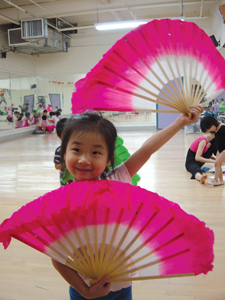 The center originally began as a dance school offering instruction in traditional Chinese dance for all ages. The dance program incorporates Chinese language. But beginning February 28, the center will offer a preschool program for ages 3 1/2 to 6 that focuses solely on Chinese language education. This bilingual program will incorporate music, singing, and arts and crafts into its language curriculum.
This summer, NYCCC will reintroduce its unique summer camp: a three-week program in Shanghai for children ages 9-14. The camp will give children and their parents the opportunity to experience Chinese culture firsthand and learn the language through immersion.
Cathy Hung, executive director of NYCCC, says learning the Chinese language is important right now because of China's prominence in the global economic market. "The Chinese market is very big right now in the world, and many people want to invest or do business in China," Hung says. "To be able to do that, language is your basic skill."
Enrollment is open for the spring semester and trial classes are available. NYCCC is located at 390 Broadway, 2nd Floor. For more information: 212-334-3764 or www.chinesedance.org.
Also see: Our After-School Activities Resource Guide and Education Resource Guide for the New York metro area