We've rounded up the best family events happening this November in Manhattan - from kid-friendly theater to Thanksgiving Day celebrations - check it out!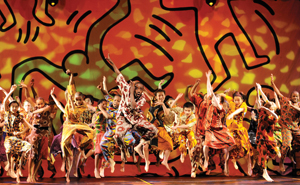 Dance, Dance, Celebration!
Returning for its sixth consecutive year, National Dance Institute (NDI)'s Celebration Team will present a joyous afternoon of dance, as more than 50 children, ages 9-15, perform favorite works from NDI's repertory. The Celebration Team, NDI's performance troupe for dancers up to age 15, is comprised of children who have demonstrated an extraordinary commitment throughout their S.W.A.T. (Scholarships for the Willing, Achieving, and Talented) scholarship training. Celebration Team dancers attend demanding weekly classes and choreography workshops taught by NDI's faculty of master teachers, its founder, and visiting artists. Rehearsals incorporate formal instruction in several techniques, including Horton-based modern dance, tap, jazz, ballet, and African dance. The performance takes place November 13 at 2pm. $25, $27 at the door; $15 children, $17 at the door. Symphony Space, Peter Jay Sharp Theatre, 2537 Broadway. 212-864-5400.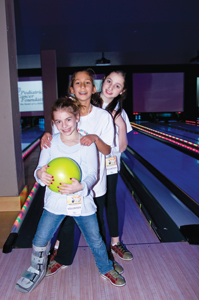 Strike Out Cancer
The Third Annual Strike Out Pediatric Cancer PCF Bowl-A-Thon is coming to Lucky Strike Lanes. The event, which will benefit the Pediatric Cancer Foundation, will feature an afternoon of bowling for the whole family, along with refreshments and entertainment. Participants of all ages are welcome, and there will be lanes set aside for younger bowlers who may need bumpers and slides. During the event, participants can also decorate and stuff Tender Loving Care (TLC) bags (canvas bags filled with a small gift) that will be delivered to children being treated for cancer in pediatric cancer units throughout the city. November 14, 11am-1pm. A $50 registration fee includes two hours of bowling, shoe rental, refreshments, entertainment, door prizes, and raffles. Lucky Strike Lanes, 624-630 West 42nd Street and the West Side Highway. To register, build a team, and/or make a donation, visit www.pcfbowlathon.org.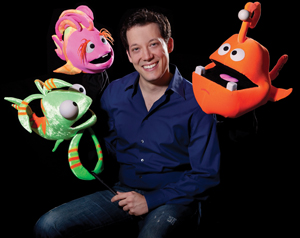 Under the Sea and Behind the Scenes
Imaginocean, the new family musical adventure created by Emmy- and Tony Award-nominated actor John Tartaglia, started its run at New World Stages in March. The show follows the undersea adventures of a group of fish friends - Dorsel, Bubbles, and Tank - who uncover a treasure map that leads them to learn about themselves and ultimately uncover the treasure of one another's friendship.
Audience members now have a chance to go behind the scenes at the show during Imagine That! Theater Workshops. Led by Dorsel and Bubbles, these workshops include a puppeteer demonstration, ocean trivia games and prizes, and a Q&A with a cast member. Participants can also learn a song and dance from the show. This month's workshop takes place November 17 at 10am. $50 (includes admission to the 11am performance). New World Stages, 340 West 50th Street. 212-239-6200.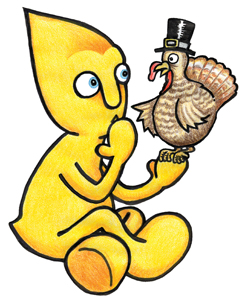 November Sunshine
That friendly little guy from the sun, Gustafer Yellowgold, will stop by Symphony Space on November 20 at 11am, bringing along a multimedia performance of live music, animated illustrations, and storytelling. Watch as Gustafer lives out an explorer's life in a slightly psychedelic version of the Minnesota woods. $25, $27 at the door; $15 children, $17 at the door. Symphony Space, 2537 Broadway at 95th Street. 212-864-5400. www.symphonyspace.org.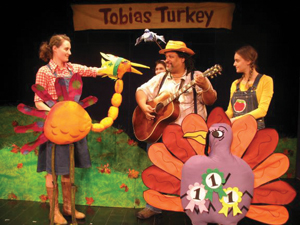 Happy Thanksgiving!
Celebrate America's day of thanks with these local events:
Tobias Turkey: In this funny Thanksgiving tale told with puppets, Tobias the turkey provides children with lots of laughs and a valuable lesson - with your determination, you can do anything! November 10-24. $15 ($20 at the door). Bleecker Street Theatre, 45 Bleecker Street. 212-727-0677. www.shadowboxtheatre.org.
Thanksgiving Feast: Learn how to make sweet potato pies and delectable Thanksgiving cookies. November 20. 9:30-10:30am or 10:45-11:45am. $50. Taste Buds, 109 W. 27th Street. To register and for more information: 212-242-2248.
Bash the Trash Celebrates Feasts with Friends: The band celebrates Thanksgiving with stories and music based on the traditions of the Native Americans. November 21 at 3pm. $12. 92nd Street Y, 1395 Lexington Avenue at 92nd Street. 212-415-5500.
84th Annual Macy's Thanksgiving Day Parade: An annual holiday tradition featuring the signature giant helium character balloons, fantasy-filled floats, marching bands, performance groups, and a variety of clowns. November 25 at 9am. FREE. 77th Street and Central Park West to Macy's Herald Square. 212-494-4495. www.macysparade.com.
Freedom's Feast: A fun-filled family celebration honoring Thanksgiving and America. November 26, 10am-5pm. All ages. Museum admission $10. Children's Museum of Manhattan, 212 West 83rd Street. 212-721-1223.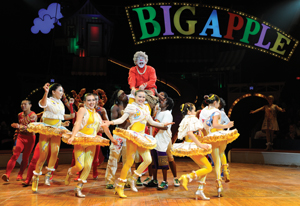 Daring Feet
The Big Apple Circus is celebrating its 33rd season with its new show, Dance On! The "World's Greatest Circus" artists swing into action in the spotlight under the Big Top, where no seat is more than 50 feet from the ring. See a troupe of monocyclists and lasso twirlers from China, a group of Mongolian contortionists, Kenyan athletes who shimmy up a pole as though gravity were a joke, a herd of hoofers - 12 miniature horses in an equine chorus line, and an Ethiopian juggler with a lively up-tempo act. Plus, star clowns Rob Torres and Grandma join Ringmaster Kevin Venardos, the Big Apple Circus Band, and the rest of the cast for a memorable experience. Through January 9, 2011. $15-$92. Damrosch Park in Lincoln Center, 62nd Street between Amsterdam and Columbus Avenues, NYC. 888-541-3750.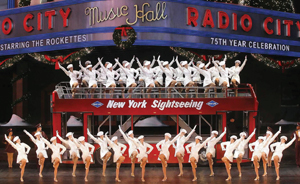 Christmas in New York
An annual tradition in the city for more than 75 years, the 2010 Radio City Christmas Spectacular, starring the world-famous Radio City Rockettes, is back for another season. Along with fan favorites like "The 12 Days of Christmas" scene, the "Living Nativity," and "Parade of the Wooden Soldiers," this year's show will feature the Rockettes in dynamic performance routines within an unforgettable signature production number set in Times Square, lighting up the New York skyline with a glittering fireworks display onstage. November 5-December 30. $45-$250. Radio City Music Hall, 50th Street and Avenue of the Americas, NYC. 866-858-0007. Tickets: www.ticketmaster.com.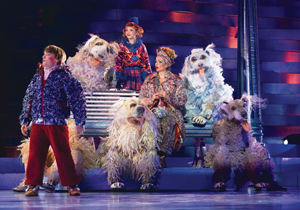 Holiday Wonderland
Cirque du Soleil will return to New York for the final season of the holiday family show, Wintuk. An exciting winter adventure about a boy's quest for snow, Wintuk weaves acrobatics, theatrical effects, and memorable songs into a journey to an imaginary land. The boy and his companions deliver excitement, exhilaration, and intrigue. Wednesdays-Saturdays, November 17-January 2, 2011. No performances December 21, 27-28. $30-$220. Madison Square Garden, 4 Pennsylvania Plaza (7th Avenue and 32nd Street). 212-465-5800 or 866-858-0008. Tickets: www.ticketmaster.com.
For even more family events and activities throughout Manhattan and the New York metro area, visit our Online Calendar