YOU ARE HERE! The Orpheum Theatre, Manhattan's East Village
Outside: A line of primed theatergoer - mostly teens and tweens, but plenty of adults and a smattering of grade-schoolers. It's a Friday night, after all. Saturday and Sunday matinees are no doubt a more popular match for families looking to take on Stomp - one of the hippest, longest-running shows playing Off-Broadway.
Inside: The theater's walls are a plastered collage of rusted license plates, authentic New York subway signs, bike parts, and so on. The feel is reminiscent of the urban back-alley set of Cats, but magnified because the display is more dense, right down to the battered spoons and hammers that read more like art than tools and eating utensils.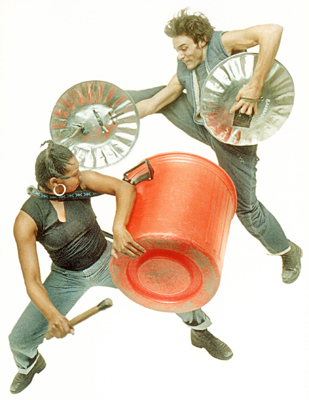 Onstage: A rugged inner-city playground where trash cans and buckets sit in for swings and slides. It's a loose, carefree vibe of street performance, where audiences can't help but get swept up in the intense creative energy radiating from the edgy martial arts choreography, talented young performers, and the seemingly endless collection of unconventional props.
Okay, the gritty aspect may be caveat for some parental units. But assuming your family isn't so tightly wound it can't surrender to ebullient, noise-saturated, physical entertainment, I can assure you this is a show both you and your kids will so get into.
Imagine a vibrant other-world where brooms aren't just for messes, plastic bags elicit a symphony, and ordinary cigarette lighters, plungers, water bottles, sinks and newspapers transform into extraordinary - and unforgettable - musical instruments.
In fact, over the course of a week, the Stomp cast goes through a mind-boggling number of "instruments," including: more than 50 gallons of water, 30 brooms, 15 pounds of sand, 10 six-foot-plus poles, 12 boxes of matches, 12 pairs of drumsticks, 8 garbage can lids, and 5 short bins!
While, at least on the surface, this sounds like something custom-made for high schoolers and college-aged kids, I assure you, viewers as young as five (the cut-off age) will love the fast-pace, cool sounds, hip-hop dance moves, humor and irresistible tempos - and, of course, the interactive nature of the show.
Stomp: The Low Down
Location: The Orpheum Theatre, 126 Second Avenue (between 9th and 10th Streets)
Schedule: Tuesday-Saturday at 8pm; Sunday at 7pm; Saturday and Sunday at 3pm.
Tickets: 212-307-4100 or www.stomponline.com
Note: Children must be at least 5 years old to see Stomp.
Crowds are encouraged to adopt the performers' euphoric energy: to stomp their feet to the synchronized beats, to clap out rhythms, and, occasionally, to echo the throaty reverbs of the performers, since
Stomp
is all action and beat with no dialogue other than body language - and these well-honed bodies have a lot to say.
One of the most awesome points of the show comes when the performers, wrapped in bungee cords, hook themselves onto scaffolding and take flight, swinging across the stage while playing booming, heart-racing beats on buckets, tubs and pipes affixed to the set. As the drumming spreads through the small theatre, most of the audience finds itself compelled to yell along with the vivid cadency.
To get a taste of the Stomp gestalt - and to get your kids psyched for the experience - visit the show's website, www.stomponline.com: Go to "Stomp USA" and click "Interact," which gives you access to study guides for both younger and older kids, as well as a really impressive intro explaining that the show's creators, Luke Cresswell and Steve McNicholas, "reject the idea that the show is performance art. Performance art often has the connotation that it is a performer or a group trying to make a political statement through the piece. Stomp makes no such claim; it is the exploration of rhythm in everyday things."
A Stomp Mini-History
(Extremely Condensed!)
1991, Brighton, U.K.: After collaborating for 10 years, Luke Cresswell & Steve McNicholas (who first worked together in 1981 in the street band Pookiesnackenburger and the theatre company Cliff Hanger), preview Stomp in London and Edinburgh to critical raves and a "Best of the Fringe"award.
1991-94: The original cast toured the show to Hong Kong; Barcelona, Spain; Sydney, Australia; and Dublin, Ireland, boasting a sell-out season and a "Best Choreography in a West End Show" Award in London.
1994: The show took up residence at its current NYC home, The Orpheum Theatre, where it has garnered Obie and Drama Desk Awards for "Most Unique Theatre Experience."
1995-2004: Multiple touring productions; an HBO TV special Stomp Out Loud; a Stomp-Sesame Street collaboration, "Let's Make Music"; and an IMAX movie: Pulse: A Stomp Odyssey.
2006: The New York production passed its 5,000th performance.
2010: Stomp turns "sweet" 16.