REI, a specialist in the great outdoors, will launch its first New York City location in SoHo's historic Puck Building before the end of the year.
REI (Recreational Equipment, Inc.) will open its first location in New York City on December 2, setting up shop in SoHo's historic Puck Building. The new store will offer three levels of services for true lovers of the outdoors. From outdoor gear to camping preparation classes, REI's mission is to provide families with the equipment and knowledge to fully enjoy the wonders of the outside world.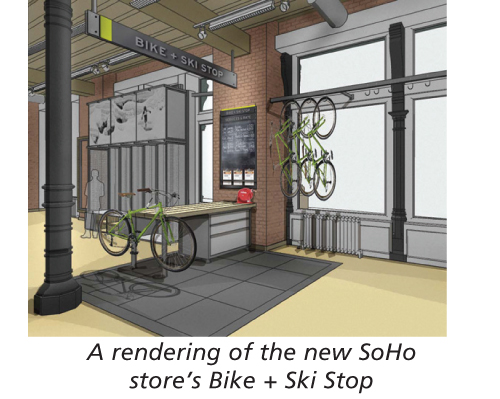 Unlike the other 121 REI locations, this store is the first to offer a Bike + Ski Stop on the ground level, where REI staff members will diagnose and handle easy fixes while directing more severe problems to the full-scale bike and ski shop downstairs.
More than just an outdoor equipment store, REI will also have a community room that will serve as a multi-use space for community members, nonprofit partners, and special events. And what's more, families can participate in outdoor hikes, navigation training, and rock climbing activities and classes organized by the store.
"Customers like [our] stores because the staff actually knows what they are talking about," says Noelle Thurlow, an REI outreach specialist. "We pride ourselves on the ability of our staff to provide accurate information and quality service."
The new store is located at 303 Lafayette Street in SoHo. For more information, visit www.rei.com/stores/142.