Teen actor RJ Mitte of "Breaking Bad" fame visited New York City to mentor budding actors, speak out against bullying, and support therapeutic horseback riding.


RJ Mitte, the 19-year-old actor best known for his role in the Emmy-winning AMC drama Breaking Bad, stepped out of the Hollywood spotlight Feb. 13 to spend a day with GallopNYC Therapeutic Riding, a Brooklyn-based nonprofit that offers therapeutic horsemanship programs to children and adults with developmental, emotional, social, and physical challenges. Throughout the day, Mitte drew from personal experience to mentor GallopNYC riders and volunteers on everything from acting to bullying.
On screen, Mitte plays the son of a cancer-stricken high school science teacher turned drug manufacturer (Bryan Cranston). Mitte's character, Walter White, Jr., has cerebral palsy -- a disability the actor suffers from in real life (though in a milder form). Off screen, he is the youth spokesperson for the National Disability Institute's Real Economic Impact Tour, which works to improve the financial situation of low-income persons with disabilities; a spokesperson for I AM PWD, a campaign that advocates for actors with disabilities; and a celebrity youth ambassador for United Cerebral Palsy, an organization that educations, advocates, and provides support for people with a spectrum of disabilities.
"RJ is an example of someone who has achieved success as a person with disabilities. He speaks openly of the challenges he has faced, and he embraces other people with disabilities of all types," says Alicia Kershaw, executive director of GallopNYC, explaining why the organization decided to partner with Mitte. "Also, some GallopNYC riders have experienced bullying -- a hot-button issue for Mitte."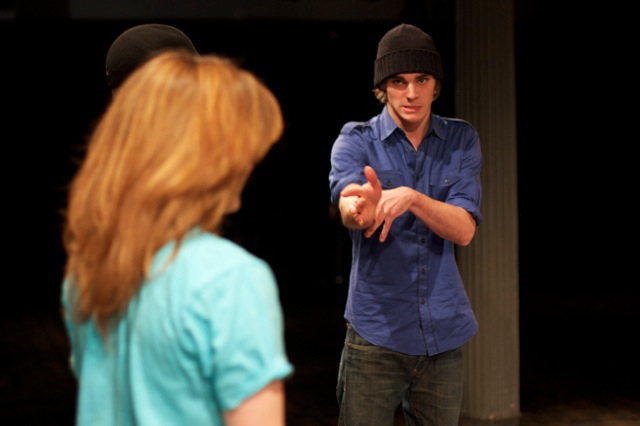 The eventful day began with a therapeutic riding lesson for Mitte, taught by GallopNYC lead instructor Ben Goldberg, during which he bonded with his mount Daisy and showed real aptitude for riding. Next, Mitte visited Richard R. Greene High School of Teaching, where students have formed teams to volunteer with GallopNYC, to speak about bullying. Mitte spoke of his own experiences with bullying and advised kids to seek help if they are bullied: "Bullies see something in you that they want for themselves," Mitte told the students, "and if they can't get it for themselves, they want to take it away from you."
Taking advantage of Mitte's acting chops, GallopNYC then hosted an acting workshop for several of its young riders at Dance New Amsterdam in Lower Manhattan, in partnership with Daytime Moon Creations, an organization that brings the joy of theater to children and young adults with special needs through recreational programming. Mitte mentored the budding actor as they performed skits, including a skit the young people had written themselves, then stayed for a meet-and-greet reception with about 50 riders, volunteers, and friends.
Mitte can be seen next in the upcoming fantasy-thriller film House of Last Things, set to hit theaters this year.
GallopNYC offers horseback riding lessons at three stables in NYC, bringing the enjoyable, supportive, and rewarding experience of riding a horse to 150 riders with disabilities each week. For more information or to make a donation, visit gallopnyc.org.