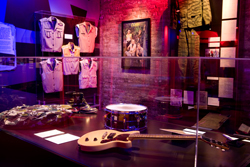 In November, when the Rock and Roll Hall of Fame Annex NYC opened its doors in the heart of SoHo, the city's love of music hit a high note. Just like its Cleveland counterpart, Annex NYC focuses on the greatest moments in rock history, and will resonate with everyone who loves music.
In its 25,000-square foot, $9 million exhibition space, Annex NYC showcases selected artifacts from the Rock and Roll Hall of Fame's vast collection. It houses six galleries containing hundreds of memorabilia, images, recordings and symbols of rock's past and present.
History can be told in many ways, and at Annex NYC a big part of the telling is with music. Visitors receive personal Sennheiser guidePORT headphones that are keyed to where you are standing in the exhibition space. Place yourself in front of a photo of Billie Holiday and one of her jazz ballads plays, or stand by Bruce Springsteen's 1957 Chevy and you hear songs by the Boss. This interactive, audio-visual feature is an exciting way for parents and children to learn about the history of music.
The exhibit starts with the onsite "Hall of Fame," which pays tribute to every artist inducted into the Rock and Roll Hall of Fame. The room is dark and the walls are lined with plaques naming each inductee. As songs from each performer or band play, their plaque lights up.
Next is the Immersive Theater, which highlights some of the most explosive performance moments in rock history. Currently, the theater is unreeling The Power and the Glory, a 10-minute film that encapsulates the history of rock.
The Annex's "Roots & Influences" exhibit examines how yesterday's music legends influenced today's chart-toppers. This area of Annex NYC brings to life musical timelines of genres such as R&B, hip-hop and blues-rock.
The "Moments to Movements" area takes visitors on a journey of the details that created and defined movements, and showcases rare items including Madonna's Jean Paul Gaultier bustier, which she wore on her 1990 Blonde Ambition world tour; Michael Jackson's gloves; and one of Prince's purple sequined overcoats. An accompanying soundtrack — on the guidePORT system — brings these items to life.
"New York Rocks" is an homage to the city that has been so integral to music history. Not only do these rooms include memorabilia, but the striking (and most captivating for children) centerpiece is a 26-foot scale model of Manhattan. Touch screens circle the diorama and allow visitors to mark key locations in rock history, ranging from the site of CBGB to the original Knitting Factory. With a tap, the history of the site appears while its location lights up on the map.
The final exhibit at Annex NYC rotates exhibitions that feature one select artist or band and focuses special attention on their time spent in New York. The inaugural show is dedicated to the seminal punk band The Clash, and opens with a giant photo of the band taken in the Big Apple.
Info:
Where: 76 Mercer Street, between Spring-Broome Streets.
When: Monday-Thursday 11am-8:30pm (last admission 7pm); Friday and Saturday 10am-10pm (last admission 8:30pm); Sunday 11am-8pm (last admission 6:30pm). Special hours daily through January 3 11am-10pm (last admission 8:30pm).
How much: $24.50, $16.50 ages 4-12 (plus taxes). Note: tickets issued with specific entry times.
For more information: 866-976-2569; www.rockannex.com.