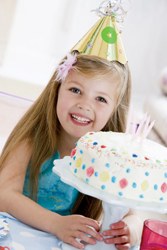 Food at parties seems to be an increasingly challenging issue. Some parents have gone organic, while more kids are diagnosed with allergies and lactose intolerances, and then there is the old-fashioned picky eater. See what advice the experts in your area had for parents about serving the right food at your child's birthday party:
"If you offer lots of options everyone will find something to love. Finger foods are great for the under age 6 crowd; trays of fruit, veggies and cheese are a must have, sushi and pigs-in-a-blanket are popular, and there is nothing wrong with chicken fingers and pizza."
-Sydney Price, Founder of City Treehouse
"Pizza is still king, because it's easy and a perennial favorite and if need be, we order a pie without cheese."
-Julie Flansbaum, Director of 74th St. MAGIC and Summer Days Camp
"All of our packages that include food offer a choice of pizza or chicken nuggets and carrot sticks and can be upgraded to organic choices. We can also accommodate a kosher family. When it comes to providing food, being flexible is key to meeting the needs of the host and the guests."
-Valentina Hantke, Director of Art Farm in the City
"Write on the invitation, 'Please let us know if your child has any severe food allergies so that we may accommodate his or her needs.' Pizza and juice are still quite popular but it's good to reach out to those with special dietary restrictions to avoid a potentially serious situation."
-Laura Brown, Director of DramaZone