The Capital One/Junior Achievement Park, currently stationed at the Museum of Finance in Manhattan, offers financial literacy workshops to students throughout New York City.
In December, Capital One Bank and Junior Achievement of NY (JANY), a non-profit organization that strives to equip local children with skills to succeed in the future, teamed up to open the Capital One/Junior Achievement Finance Park, located at the Museum of Finance. The mobile finance park has since been offering financial literacy workshops to middle school and high school students throughout the city. These workshops will continue through February, and a total of about 2,000 students from 20 schools are projected to complete the program.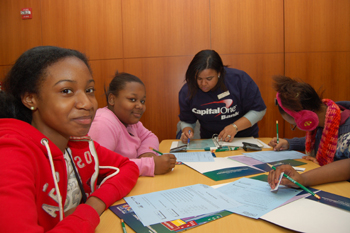 Participating students first study an in-classroom curriculum that covers the basics of saving, investing, credit, and money management, says Joseph Peri, president of JANY. Students then travel to the park for a five-hour experiential workshop in which they put their knowledge to work in a simulated "real world." Upon arrival, students are given a "Life" card with some basic information they must role-play - i.e. you're married, have two kids, and your income is $60,000. The children use these factors to determine an appropriate budget for their lifestyle, and they're required to make important buying decisions along the way. Volunteers from Capital One are available throughout the workshop to mentor kids and coach them through the process.
"We're really trying to get them to understand that they, to a great extent, can be empowered to take control of their own financial lives, which will lead to a better quality of life," Peri says. "We live in a world that's very complex, where people can get into trouble if they don't understand these things. Clearly, after what we've seen happen to so many people financially in the last couple years - with people overextending on mortgages and credit cards - this type of education is more crucial than ever."
The finance park will move to Long Island in April. For more information, visit the finance park's page on www.ja.org.
Also see: Our Education Resource Guide for NYC families
Our Online Calendar for family events in Manhattan and the New York metro area