The Theater at Madison Square Garden will host The 101 Dalmatians Musical this month, brought to life with a cast full of furry friends.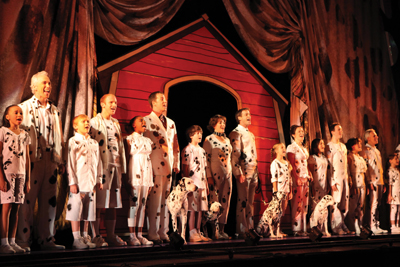 See one of the most well-known children's stories brought to life on stage this month, in The 101 Dalmatians Musical.
Dodie Smith's book, The 101 Dalmatians, is beloved around the world and has been translated into 47 languages. The story was first put to film in the 1961 Disney animated classic, 101 Dalmatians, and was brought back to the big screen in the subsequent 1996 live-action film of the same name starring Glenn Close. But the inspiration for the Broadway production came directly from re-discovering the original 1957 novel.
Styx co-founder Dennis DeYoung provides a lively musical score as a cast of talented actors, both human and canine, work together to create a colorful, fanciful, and slightly topsy-turvy world. Throughout the musical, the cast will explore what it means to be a family, as these courageous and lovable canines band together to overcome every hurdle and hardship even in the most difficult times.
Info
Where: Theater at Madison Square Garden

When: April 7-18
How much: $35-$99
For more info: www.theateratmsg.com
Most of those hardships come at the hands of the fur-loving, all-too-familiar villainess Cruella De Vil, played by Sara Gettelfinger. Gettelfinger portrays the diabolical De Vil with malevolent decadence as the heroes and heroines of the show scramble to escape her clutches through song and dance. This one-of-a-kind show is full of excitement and sure to have kids of all ages cheering along and counting themselves in with the canine crowd.
Along with its human cast, the musical features 15 rescued Dalmatians, including Rascal, a 1-year-old pup from the Second Chance Dalmatian Rescue in Ohio who was nursed back to health after having a broken leg. To learn more about Rascal, his canine co-stars, and the show's head trainer, Jessica Schiffhauer, check back on www.NYMetroParents.com after April 7.