Send in the Clowns
Bolo & Claus Clowns!, a new children's entertainment company, was founded in January by two actors who met while working in a New York theater company. Christian Hartwig and Pedro Serka created the characters Bolo and Claus and apply the techniques they learned during their days of training as actors into their performances for children.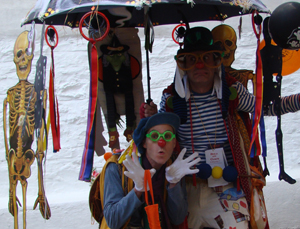 The pair performs for children between the ages of 3 to 6 at school classrooms and birthday parties. Hartwig and Serka specialize in interactive stage performances that infuse music, magic, puppetry, and masks, with audience participation. They do not want children to just be spectators, Serka says, but to also participate actively in the performances, which incorporate an element of role-playing where children work together to help find hidden treasures and dragons.
Serka says he and Hartwig use a different approach to entertaining children than other traditional clowns. Instead of doing face paintings, balloon animals, and teaching dance choreography, Hartwig and Serka focus on developing the imagination, creativity, and communication skills of children through their performances. "We try to pass on some values that we consider important, such as group consciousness, dialogue, tolerance, and the ability to interact and share with others," Serka says.
For more information, call 646-667-9181 or e-mail [email protected].


Also see: Our Birthday Parties Resource Guide for the New York Metro Area