A musical about dreams, dance, and the connection between a father and son.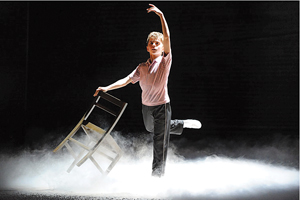 The most exhilarating part of the coming-of-age musical Billy Elliot is watching a kid command the stage with his passionate, soul stirring dancing.
It does not matter which performance you see at the Imperial Theatre - each of the five young actors who alternate playing Billy in this adaptation of the 2000 film will astonish you with his dancing, his acting and his ability to move you to tears. Alex Ko, for instance, the youngest student ever admitted (when he was 12) to the University of Iowa's dance department, has won national and regional dance titles and earned a scholarship to the Steps on Broadway program that led to his Billy audition. He dances with a beauty, verve and assertiveness fitting for a character who knows that ballet is the way to escape the dying mining town he and his family live in.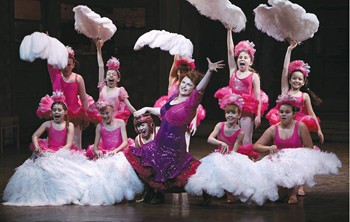 Ko, 14, joined a prestigious corps of Billys. The original three on Broadway (David Alvarez, Trent Kowalik, and Kiril Kulish) won the Tony Award for best actor in a musical. Overall Billy Elliot took home 10 Tonys last year, including best musical, best book, director, choreographer, orchestrations, and best scenic, lighting, and costume designs.
Gregory Jbara, who picked up the best featured actor Tony for playing Billy's father, recalls, "When Alex started, he did two shows and then was out for six months with a torn meniscus, and the growth plates in his knees were traumatized from leaps off the piano. He's a wonderful actor, but he's grown three inches since he started. We have to stop feeding these guys so they won't grow up."
Alex Ko (Billy) and Kate Hennig (Mrs. Wilkinson) with the Ballet Girls in a scene from Billy Elliot.

Billy Elliot is set in the mid-1980s in northern England, where 11-year-old Billy lives with his father, older brother and dotty grandmother (Carole Shelley). Dad, still grieving the long-ago death of his wife, is on strike against the coal mine where he works, and is upset that Billy has given up boxing lessons to learn ballet in a class of 10 girls.
Not surprisingly, ballet is not considered a proper male pursuit in the macho culture of coal miners. They are preoccupied by their fight against the conservative government of Prime Minister Margaret Thatcher, who is mocked with puppets, one of them 20 feet high. Fighting for their livelihood, the miners think little of a young boy's love of dance.
But Billy persists, improving constantly, eventually surpassing the skills of the girls and prompting his tough but clearly smitten teacher, Mrs. Wilkinson (Kate Hennig), to suggest that he try out for the Royal Ballet School. By the end of the first act, though, Billy is conflicted over his desire to dance and his father's bullheaded opposition. His frustration is exhibited in Angry Dance, a showcase for each Billy's brilliant range of dancing skills.
"It's such a sensory overload," says Jbara. "We're all aware of the huge impact it has, with its rock 'n' roll blowout finish. Everyone feels invested in it. We're in the principal dressing rooms listening. It's a barometer of audience reaction, and you hear the roar and we say, 'Yeah!' "
"I
t's an unusually strong father-and-son story, as much as it is a boy and a teacher story.
"
The musical - despite the presence of the adults (the miners and police come together in a mesmerizing number entitled Solidarity) - is dominated by an amazingly talented group of young actors and dancers.
Adding another layer to the complexities of growing up in a stifling environment is Billy's best friend, Michael (Trevor Braun), who likes to dress in his sister's clothing. In the song Expressing Yourself, the two boys make like vaudevillians and turn the stage into a safe place for a young cross dresser and a young dancer fending off male stereotypes.
Billy's transformation into a dancer worthy of the Royal Ballet School - and his father's eventual recognition of his son's talent - are punctuated by his audition for the Royal Ballet School in London. Dad has never seen him dance. Billy's audition becomes an explosive expression of creativity that finds him singing that dance "is a feeling you can't control/I suppose it's like forgetting, losing who you are/And at the same time something makes you whole."
Jbara's character watches with wide-eyed wonder as the son whose passion he wanted to squelch becomes the focus of his undeniable pride.
"It's such a gift to surrender to my awe for this child as I watch him dance - and I get to take that ride every night and fall in love with that boy. I'm exhilarated by the ride Dad takes from depression at the start to being wildly in love with his son," says Jbara, adding, "I've been stopped on the street by more men than any other show I've done in New York because it's an unusually strong father-and-son story, as much as it is a boy and a dance teacher story."
Billy Elliot is playing at the Imperial Theatre, 249 West 45th Street. For tickets, call 212-239-6200 or visit www.billyelliotbroadway.com.