During the May 15 event in Manhattan, 56 art and antique galleries hosted free hourly guided art tours along with artist and curator talks.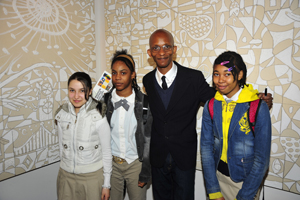 Madison Avenue was the epicenter of the New York art world on Saturday, May 15, when 56 of the world's most prestigious art and antique galleries hosted the 3rd Annual Madison Avenue Art Gallery Walk. More than 1,000 children, families, and art enthusiasts enjoyed the open galleries, tours, and talks offered as part of the program.
Showcasing the breadth and depth of the collections represented by the world class Madison Avenue art and antique galleries on 29 art-filled blocks and adjacent side streets between 57th and 86th Streets, families and art patrons were welcomed to spend the day viewing the current exhibitions and taking advantage of free and unique events. Free hourly guided gallery tours were offered, conducted by art faculty from the New York City's Public Schools, and free gallery talks were given throughout the day by artists and curators. A special art exhibition, "Tomorrow's Artists", by New York City school children, was held in the lobby of the HSBC Bank at 1002 Madison Avenue and in participating galleries.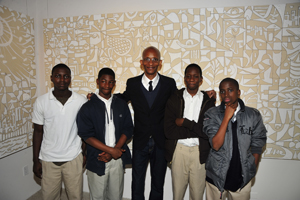 Acclaimed artist Victor Matthews, who learned his craft in the New York City public school system, gave an inspiring talk to students from his alma maters, P.S. 138 and The High School of Art and Design. The 25 NYC Public School children, grades 6-12, gathered at the Wendt Gallery in the historic Fuller Building to learn first-hand about Mr. Matthews' childhood experiences in the New York City public schools and how he rose to prominence as an artist.
A fundraising kick-off benefit cocktail reception and silent auction of works donated by Madison Avenue Galleries was held on Thursday, May 13, at The Surrey Hotel's Presidential Suite. Caroline Kennedy, Gallery Walk Honorary Committee Member, was in attendance. Presented by the Madison Avenue Business Improvement District (BID) and sponsored by HSBC Bank USA N.A. and New York Magazine, the Gallery Walk benefited The Fund for Public Schools, a not-for-profit organization chaired by NYC Schools Chancellor Joel Klein and Vice Chaired by Mortimer Zuckerman and Caroline Kennedy.