More Music for Munchkins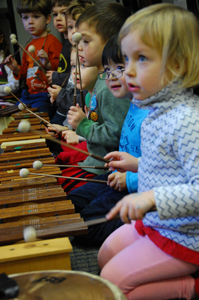 Third Street Music School unveiled several improvements to its preschool program for the 2011-2012 school year. In addition to an expanded schedule, the school now offers an enhanced music curriculum.
One notable addition to the program is a weekly, 45-minute session for all students with musical specialist Mik Manenti. The class will use the Orff Method, which teaches children about music by engaging their minds and bodies through singing, dancing, acting, and playing percussion instruments. Preschool students will also discover a new instrument each month and learn about a distinct music style, era, or composer. Additionally, the school will host monthly concerts for students that feature the instrument of the month along with performances by the school's music faculty.
Students ages 2-3 will benefit from a weekly Spanish class that will engage both their singing and Spanish language skills, while enrolled 4-year-olds will have their own weekly class that includes an instrumental lesson.
"We are very excited about these changes and are certain that they will enable our program to become even better," said Risa Young, director of early childhood programs.
The Third Street Music School Settlement is located at 235 E. 11th Street. For more information: 212-777-3240 or www.thirdstreetmusicschool.org.