Tribeca mom
Rachel Thebault
has gone from banker to baker, opening
Tribeca Treats
in her adopted downtown neighborhood.  The inviting shop combines high-end baked goods, handmade chocolates, and a boutique with bakeware, party goods and frozen cookie dough (so even the most time-pressed families can enjoy fresh-from-the-oven cookies).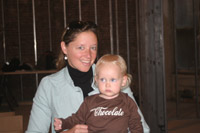 Although daughter, Marin, is not yet 2, Thebault planned ahead with a large 'dining room' table at the center of the store.  Kids and their parents stop in after school and children do their homework at the table.  Thebault says she looks forward to the day when Marin can join the homework crew there while her mom works in the open kitchen.  For now, mother and daughter bake together, and Tribeca Treats has ongoing baking classes for kids and adults.
   Thinking like a mom, Thebault has bucked the trend of gargantuan cupcakes and cookies, offering treats that do not exceed the total of a toddler's daily calorie needs.  And although she uses organic butter and high quality chocolate, she keeps prices reasonable; cupcakes are $2; sandwich cookies $1.25 (try the chocolate peanut butter; or urban riff on a s'more, a graham cracker with marshmallow cream, dipped in chocolate).  And the afterschool special, available at any time, offers a free cookie to anyone with purchase of a glass of milk.
   She stocks the Hudson Valley organic Ronnybrook Farm milk and uses their ice cream for her ice cream sandwiches. She also sells Ronnybrook and the local 5 Boros ice cream by the pint.   Thebault aims to make throwing a party easy — in addition to selling cakes (by custom order), she has invites and cards, and gifts for fellow bakers that include oven mitts and towels, colorful spatulas, and dessert cookbooks.  You can also take the very easy way out and have a party at the store. Thebault tailors the activities to different ages, but even kids as young as 3 can mix ingredients and decorate cookies or cupcakes.  Children also get to decorate tiny aprons with fabric markers, for the perfect 'take home'.  Older kids can even learn how to make chocolates.
   Tribeca Treats invited its customers to enter a cupcake contest, suggesting different flavors and voting on favorites.  Every day, there are standard cupcakes, including vanilla, back & white and devil's food, plus a rotating repertoire of different flavors.  There will be more flavors, but Thebault's aim is to stick with brownies, cookies, cupcakes and chocolates, believing that doing these products well is better than expanding to other treats that are not her forte.  She is 'thinking inside the (bakery) box'.
   Tribeca Treats is at 94 Reade Street, between Church Street and West Broadway.  For more information, call (212) 571-0500 or go to
www.tribecatreats.com
.