Two NYC teens were honored with A.L.L.Y. Awards for the positive changes they've made in their community and beyond at this year's International Year of Youth Culmination Celebration in Manhattan.
Itzel Delgado, 16, and Nicole Javanna Johnson, 18, both of Manhattan, were among the 14 remarkable young women to receive A.L.L.Y. Awards at this year's International Year of Youth Culmination Celebration on August 11.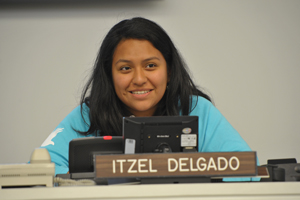 A.L.L.Y. Awards, presented by AllyKatzz media company, recognize young women across the globe that have played leadership roles in their communities and are committed to working toward positive social change.
Delgado, a Girl Up Teen Advisor for the United Nations Foundation and a senior at the Young Women's Leadership School of East Harlem, raises funds and awareness to mobilize her community to help all girls reach their full potential.
Johnson founded Javanna Productions, a nonprofit production company that raises funds and awareness for both domestic and international causes.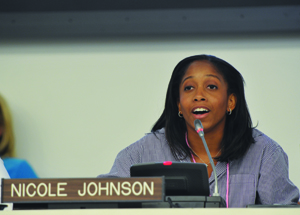 Delgado and Johnson, along with 12 other recipients from the U.S. and India -- including Anum Khan, 22, and Victoria Ogundipe, 15, of Queens -- took to the stage at the United Nations Headquarters, during the morning session of the Year of Youth event, alongside host Monique Coleman, the High School Musical actress and UN Youth Champion. Recipients participated in two panels, discussing global and social change with esteemed members of the media, and were addressed by notable attendees like Farah Pandith, the state department's special representative to Muslim communities; Begona Lasagabaster, political adviser of UN Women; Moira Forbes, president and publisher of ForbesWoman; and Ann Shoket, editor in chief of Seventeen.
During the afternoon session, held at the French Institute Alliance Française, the award recipients and all 192 female delegates (ages 11-24) participated in hands-on leadership activities like assembling Promise Packs for orphaned and at-risk children, organizing food pantry donations, and participating in a LemonAID Warriors Pucker Up contest for charity. The 14 award recipients were also treated to a V.I.P luncheon with several female leaders.
"In providing young girls with this communication platform, the Culmination Celebration supported the UN Millennium Development Goals, specifically their pledge to promote gender equality and empower women worldwide," said an AllyKatzz representative.
Inspired?
Find out why and where your kids should volunteer and how you and your family can get involved in your community