Mandarin Made Simple
In September, Wei Bo Learning Center began its after-school Chinese language program at the NEST+m public school. Wei Bo's programs focus on teaching children the Mandarin dialect of Chinese using a curriculum based on teaching materials that integrate sound recognition, animated pictures, and games.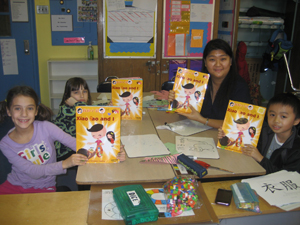 The program uses its own textbook created by the director of the organization, Wei Jian Bo. The textbook uses a learning technique called "impressing recognition," which was developed to help students recognize Chinese characters through picture memorization. The visual aid of the pictures helps stimulate interest with the students of the class, who are between the ages of 4 and 10, says Tina Pang, a teacher at the learning center.
"Most of the students in our classes are non-Chinese or second- and third-generation Chinese Americans who have not been exposed to the Chinese language," Pang says. "The curriculum was created to help teach students who have no prior knowledge of the language with ease and efficiency." As an added bonus, Pang says parents have begun to pick up the language as a result of helping their children study and watching the take-home DVDs.
Wei Bo Learning Center's after-school program is located at 111 Columbia Street. For more information: 917-353-6619 or www.weibochinese.com.
Also see: Our After-School Activities Resource Guide for the New York Metro Area