There's nothing like ice skating amid the hustle and bustle of the city, so bundle up and head to one of these classic outdoor rinks.
Skate Away!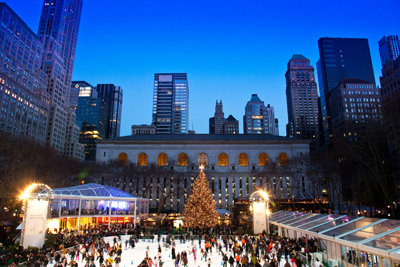 Ice skating is a quintessential winter activity in the city. Apart from its quaint qualities, skating is a great way to embrace the season and get some good-for-you outdoor exercise. So bundle up your beauties and head to one of these classic spots. (And don't forget the hot chocolate when you're done!)
Citi Pond at Bryant Park, formerly known as The Pond at Bryant Park, is NYC's only admission-free ice skating rink. Hours: Sunday-Thursday 8am-10pm; Friday-Saturday 8am-12am. FREE; $13 skate rental. Bryant Park, 40th-42nd Streets between 5th and 6th Avenues. For more information: 212-661-6640.
If you're looking for a more natural setting, take a spin around Wollman Rink in Central Park. Skating hours are 10am-2:30pm Monday-Tuesday; 10am-10pm Wednesday-Thursday; 10am-11pm Friday-Saturday; 10am-9pm Sunday. Monday-Thursday rates: $10.50; $5.50 children 11 and under; $4.75 seniors. Friday-Sunday rates: $15; $8.25 seniors; $5.75 children 11 and under. Skate rental: $6.25. There is a spectator fee of $5 (cash only). Enter at Central Park South (59th Street) and Sixth Avenue. For more information: 212-439-6900.
Or try something a little less crowded. Lasker Skating Rink is a smaller rink located at the north end of Central Park, near 110th Street and Lenox Avenue. Skating hours: 10am-3:45pm Monday, Wednesday, and Thursday; 10am-3:30pm and 8-10pm Tuesday; 10am-5:15pm and 7-11pm Friday; 1-11pm Saturday; 12:30-4:30pm Sunday. $6.50; $3.50 youth; $2.25 seniors. $5.50 skate rental. For more information: 917-492-3857.
A trip on the ice at The Rink at Rockefeller Center is a classic winter-in-New-York experience. Skating hours through January 7: 10:30am-12am Monday-Friday; 8am-12am Saturday-Sunday. Occasional half-hour breaks for grooming. $19; $12.50 seniors and children under 11. $9 skate rental. For hours and rates after January 7, check online. Located on Fifth Avenue between 49th and 50th Streets. 212-332-7654.