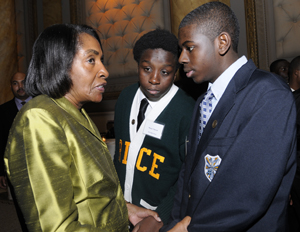 The success of the Young Achievers program at the Harlem Metro-Manhattan Links, Inc. has prompted the expansion of the program to multiple other chapters nationwide. Through Young Achievers, started by Barbara Martin 12 years ago to assist young African American men in graduating high school and college, the Metro-Manhattan chapter has successfully sent 300 men to college, and this year, a record 55 men enrolled.
In her new role as chairman, Martin will help replicate the program at other chapters in a tour around the country, attending regional meetings and providing guidance. She will work closely with the National Service to Youth Committee to help secure community partners and involve parents in Young Achievers.
"The Links are responding to the very real need to help our young men stay focused on getting a good education," said Martin, who added that statistics often show a low percentage of African American male graduates from high school and college.
Young Achievers at the Metro-Manhattan chapter provides a team of role models in its partnership with the Alpha Phi Alpha fraternity. Links provides a female mentor while the fraternity provides a male one, both of whom speak regularly with the men in the program. These men also participate in college writing workshops and community volunteer activities. When they graduate high school, they are awarded a laptop and a textbook scholarship for college.