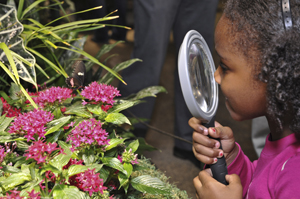 Embrace the warmer season by paying a visit to a zoo or nature center in Manhattan, many of which offer outdoor, nature-based activities for kids and adults alike. There's already plenty in bloom at area botanical gardens, with sights and smells for all to enjoy. If you're looking for something less structured, leave your plans behind for the day, pack up the family, and head to the park where you can lay out a picnic, play a game of catch, or just soak in some rays (don't forget the SPF!) on the newly sprouted grass.
Our guide has all the information you need for a fun family outing to celebrate the great outdoors in Manhattan. So, if you've thawed out enough, put a spring in your step and hop to some seasonal fun at any one of the locations below.
American Museum of Natural History: The Butterfly Conservatory
Central Park West at 79th Street
212-769-5100
Hours: Open through May 30; 10am-5:45pm daily. Suggested admission: $16; $12 seniors and students; $9 children ages 2-12.
Enter a re-created tropical forest environment filled with more than 500 live butterflies
Central Park Zoo
830 Fifth Avenue and 64th Street
212-439-6500
Hours (through October 31): Monday-Friday10am-5pm; weekends and holidays 10am-5:30pm. Price: $12; $9 seniors; $7 children ages 3-12; free children under 3.
This zoo is best known for the daily feedings of the sea lions at 11am, 2pm, and 4pm. You can also visit penguins and polar bears at the Polar Circle exhibit and meet snow leopards at the zoo's newest exhibit. The exotic indoor rainforest is home to endangered species such as Tamarin monkeys, Wyoming toads, thick-billed parrots, and red pandas.
- Admission includes entry to the Tisch Children's Zoo, where kids can feed and pet llamas, bunnies, and a barnyard full of friendly animals.
The Cloisters Museum and Gardens
99 Margaret Corbin Drive, Fort Tryon Park
212-923-3700
Hours (March through October): Tuesday-Sunday 9:30am-5:15pm. Suggested price: $20; $15 seniors; $10 students up to age 12; free children under 12 when accompanied by an adult.
A medieval annex of the Metropolitan Museum of Art, the Cloisters were designed based on horticultural information found in medieval treatises and poetry, garden documents, and works of art. A central garden is set in a courtyard with arcaded walkways, while another garden area contains nearly 300 plant species that were grown during the Middle Ages. A third, smaller garden blooms with flowers through the fall.
- The Cloisters regularly hosts programs and workshops for kids and families.
Conservatory Garden in Central Park
Central Park, entrance on Fifth Avenue at 105th Street
Hours: Open 8am-dusk daily. Price: Free.
This six-acre garden features French, Italian, and English designs. In the French North Garden is the Three Dancing Maidens fountain. Seasonal plants include 20,000 tulips each spring and 2,000 Korean chrysanthemums each fall. An Italian Central Garden features crabapple trees, wisteria, and a lush lawn. The English style South Garden, planted to be enjoyed year-round, features the Burnett Fountain, depicting a young boy and girl based on characters from The Secret Garden by Frances Hodgson Burnett.
- Free tours start at the front gate each Saturday at 11am (through October 29).
Parks across Manhattan, such as Theodore Roosevelt Park, Riverside Park, and Jackie Robinson Park
Hours: April through September, daily. Price: Free.
Every month, new flowers and trees bloom in these parks and others across the city. Plants such as crocus, daffodil, butterfly bush, Asiatic lilies, roses, Hollyhock, cherry trees, and many more can be seen and smelled by all.
Click here for a list of what's blooming when and where.
See our complete guide: Zoos, Nature Centers, and Botanical Gardens in the New York Metro Area