apple seeds, an award winning children's play space, is opening a location on the Upper West Side. This site offers an all-in-one play space with classes such as music, art, construction, and sports. The new location also offers 11 different birthday party themes.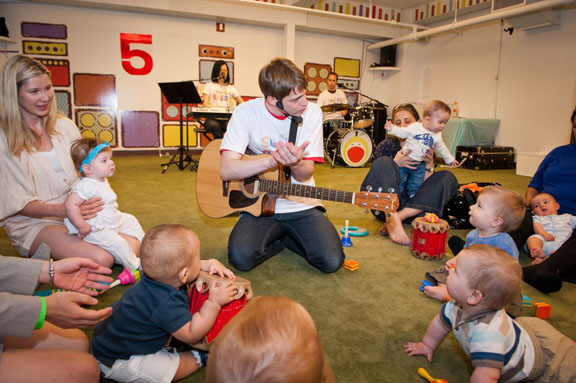 Tots rock out to apple seeds' Songs for Seeds music class, which is led by a three-piece band and encourages kids to sing and play instruments like drums and accordions.
An award-winning play space for children, apple seeds, has opened a second location on the Upper West Side. The site features a nearly 2,000-square-foot playground, classrooms, and birthday party options. The all-in-one play space is a clean, safe, and fun environment to families with children from newborn to 5 years old offering classes for in music, art, science, construction, cooking, dance, and gym, as well as gentle separation classes and those that combine art and sports for the well-rounded little one. Tots can play sports like hockey, tennis, golf, and gymnastics, all on child-size equipment. And because caregivers are encouraged to participate, the classes give parents a great opportunity to spend time with their children.

The play space also offers 11 birthday party themes ranging from music, princess and pirate costume, and construction to science, cooking, dinosaurs, and superheroes. All parties can now be booked completely online with apple seed's automated birthday planner.

Allison Schlanger and Alison Qualter Berna, along with their husbands Craig and Robert, founded apple seeds' flagship 25th Street location in Chelsea to create a fun and safe play space for kids. They are very excited about the new location, they said, citing the Upper West Side's family-friendly feel and warm sense of community.