Autism Speaks celebrated mothers of the autism community at a luncheon in New York City on Wednesday, May 1 with special guest Dee Ocleppo, the nonprofit's national board member, fashion designer, and former model.
Autism Speaks, the world's leading autism science and advocacy organization, hosted on Wednesday, May 1, a Mother's Day "Moms 4 Moms" luncheon at The Lambs Club in New York City to celebrate motherhood with the non-profit's national board member Dee Ocleppo who is also a fashion designer and former model, and other mothers within the autism community.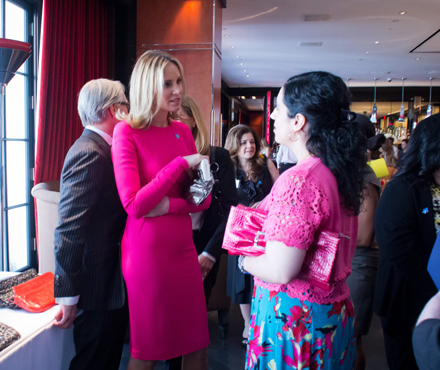 Moms in the autism community, including national board member of Autism Speaks Dee Ocleppo (left) came together for a special Moms 4 Moms event in NYC

.
The moms enjoyed socializing, food, and a special mother's day gift from Dee as a show of recognition for their love and support of their families.
During the Moms 4 Moms event, friend and fellow board member Laura Slatkin (Founder of Candela Group & NEST Fragrances) honored Dee, and other women who in her words have, "dreamed, worked, hoped, believed, struggled and loved enough to make a difference."
Northern NJ Walk Now for Autism Speaks committee member Johanna Burke whose 10-year-old son Aidan is severely affected by autism and epilepsy emphasized the importance of raising funds for research into the causes and treatment of autism.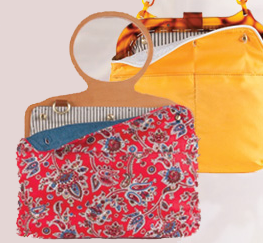 The event also recognized Dee's generous donation of handbags from her DEESIGNS line now available through the Autism Speaks online store, shop.autismspeaks.org.
Through the sale of the handbags, with an estimated value of close to $300,000, 100 percent of the proceeds fund the mission of Autism Speaks.
The organization also announced its Mother's Day special: each of the bags will be on sale from now until May 12 for $88 – representing the 1 in 88 children affected by autism. The special also includes free shipping until Mother's Day, May 12.
About Autism
Autism is a general term used to describe a group of complex developmental brain disorders – autism spectrum disorders – caused by a combination of genes and environmental influences. These disorders are characterized, in varying degrees, by communication difficulties, social, and behavioral challenges, as well as repetitive behaviors. An estimated 1 in 88 children in the U.S. is on the autism spectrum – a 78 percent increase in six years that is only partly explained by improved diagnosis.

About Autism Speaks
Autism Speaks is the world's leading autism science and advocacy organization. It is dedicated to funding research into the causes, prevention, treatments and a cure for autism; increasing awareness of autism spectrum disorders; and advocating for the needs of individuals with autism and their families. Autism Speaks was founded in February 2005 by Suzanne and Bob Wright, the grandparents of a child with autism. Mr. Wright is the former vice chairman of General Electric and CEO of NBC and NBC Universal.

Since its inception, Autism Speaks has committed more than $195 million to research and developing innovative resources for families. Each year Walk Now for Autism Speaks events are held in more than 100 cities across North America. On the global front, Autism Speaks has established partnerships and related activities in more than 40 countries on five continents to foster international research, services and awareness.