11 BEST PLACES TO SHOW OFF YOUR FAMILY'S HALLOWEEN COSTUMES IN MANHATTAN
Related:
halloween costume contests for kids in manhattan
,
halloween costume contest in manhattan
,
hallowwn parties for kids in manhattan
,
Your kid has been thinking about what he wants to be for Halloween since last year--and he's changed his mind a handful of times. This year, take your child to show off her best Halloween costume at Manhattan's most fun Halloween parties for kids, many of which will award prizes to the most creative of costumes.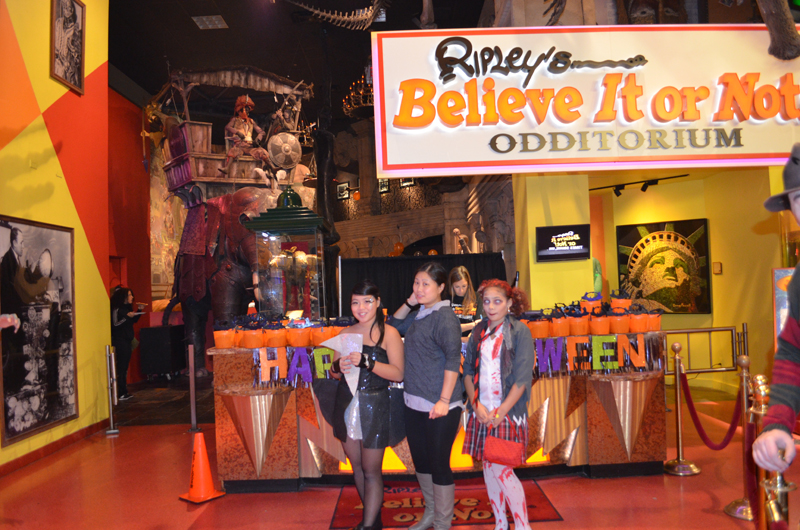 Le Poisson Rouge, Greenwich Village
Oct. 20
Featuring DJs, MCs, dancers, music, crafts, food, unlimited drink boxes, cash bar for non-driving mamas and papas, and of course lots of dancing. Halloween-themed for the month of October.
Circle Line Cruise Boat, Pier 83 at 12th Avenue
Oct. 26
Kids and their parents should get ready for some rockin' Halloween action, as award-winning kindie band Baze and His Silly Friends presents two high-energy, all-ages, get-up-and-dance shows on board a special Circle Line Kids Halloween Sightseeing Cruise around the Statue of Liberty. Baze and His Silly Friends perform toe-tapping, kiddie rock-n-roll, and for this Halloween cruise, they'll perform in costume! To celebrate the spooky spirit of the season, kids are likewise encouraged to get on board with their Halloween costumes.
Broad Street Ballroom, Lower Manhattan
Oct. 26
The party features Little Club Heads Mascots DJ, Nubby and Bubby, dancing, music, face painting, balloons, games, crafts, photo booth, live performances, costume contest, goodie bags, and overall family fun!
Top of the Rock, Midtown
Oct. 26
Children can enjoy face painting, magic shows, and sweet treats, while the whole family takes in the stunning, 360-degree panoramic views of New York City.
Ripley's Odditorium, Times Square
Oct. 26
Enjoy trick-or-treating, scour the galleries on a spooky scavenger hunt, participate in a "laser race," and enjoying performances by some truly odd acts. Later in the night, guests will watch a family-friendly Halloween movie, go on a flashlight hunt, and gather their courage before heading into a haunted house. There will be pizza and snacks for all, and guests should dress to impress, as there will be prizes awarded for the best costume at breakfast the next morning.
Charles A. Dana Discovery Center, Central Park
Oct. 27
Wear your costume and bring a carved jack-o'-lantern before 5:30pm for spooky music, crafts, live entertainment, a parade, and New York City's largest pumpkin flotilla at twilight.
City Treehouse, Chelsea
Oct. 27
With songs about dancing werewolves, falling leaves, hooting owls, and monsters in the bubble bath, this concert is a wonderful way to celebrate Halloween without the shivers. Costumes are welcome.
74th St. MAGIC, Upper East Side
Oct. 28
Come in costume to MAGIC's Halloween Dance Party, followed by cookie decorating and a trick-or-treat art project. Goodie bags will be provided for all.
Karma Kids Yoga, West Village
Oct. 30
In celebration of Halloween, you'll emphasize Wolf, Bat, Spider, Goblin, Pumpkin, Witch, Wizard, Ghost, Cat and other fun holiday poses. Be sure to wear your costume and expect some Halloween surprises.
New-York Historical Society, Upper West Side
Oct. 31
Dress up like your favorite historical character and come to where curious kids celebrate Halloween. Meet the headless horseman, listen to Gilded Age ghost stories, visit a fortune teller, and taste test historic candy. Special guests The Hudson River Ramblers will also entertain families throughout the museum with haunted history songs and tales.
American Museum of Natural History, Upper West Side
Oct. 31
More than 30 of the museum's popular halls will be open for trick-or-treating, arts and crafts, fun with roaming cartoon characters, and live performances.
More Halloween Fun
Head to nymetroparents.com/halloween for creative costume ideas, spooky recipes, and awesome giveaways!
---
Get Your FREE Indoor Activity eGuide!
---
More Halloween Articles Articles
7 Tips for Trick-or-Treating with Your Toddler
New Book Encourages Kids to Give Up Halloween Candy
Halloween Activities in Bucks County, PA
DIY Alien Monster Egg Halloween Decoration
Toddler-Friendly Halloween Events in Fairfield County, CT