Broadway Workshop holds performing arts camps for children in Manhattan. It will offer its Junior Excel Camp this summer for ages 9-13.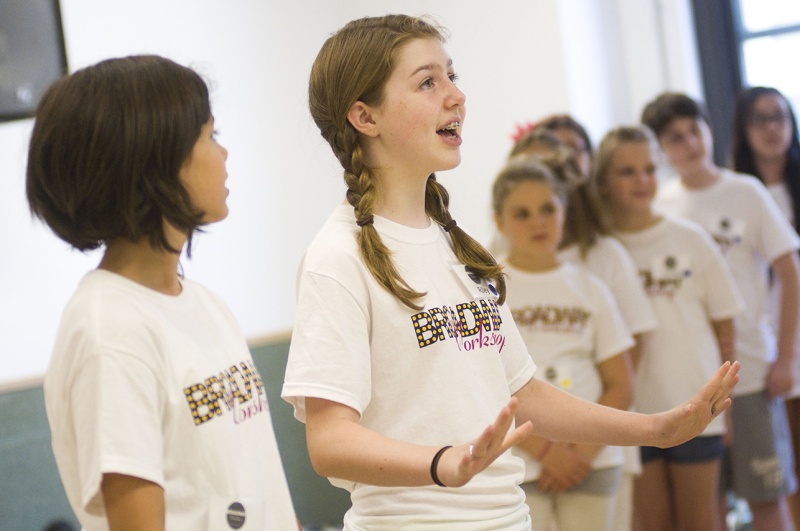 Broadway Workshop campers rehearse for the student showcase.
A junior program for kids passionate about Broadway is coming to New York City this summer. The camp caters to kids ages 9-13 and will be welcomed as one of Broadway Workshop's eight summer camps. Currently with more than 1,000 kids enrolled, Broadway Workshop produces two full-scale productions a year and offers one-day workshops, classes, and private coaching.
"Kids come from all over the country for the chance to learn from professionals that aren't usually accessible to them and to work with like-minded kids," says owner Marc Tuminelli. "Our kids can work with a guest teacher and then can go that night and see them on Broadway."
The Junior Excel Camp is a five-day program in which kids study song interpretation and musical theater performance, acting and monologue preparation, and dance master classes as well as attend guest workshops with New York's top casting directors, Broadway actors, musical directors, and choreographers.
Parent's can register their child online, there is no audition necessary for the camp, but it is requested that kids have a background or prior experience in school or professional theater. Each student will be required to prepare two musical theater song selections in the correct key, one monologue, and multiple headshots and resumes for industry guests.
The camp is held from July 28-Aug. 1 at Ripley Grier Studios.