Easter comes early this year, on March 31, but don't let the chilly weather stop you from getting in the holiday spirit. Here are several fun and low-cost Easter events for kids, including Easter egg hunts and places to meet the Easter Bunny in Manhattan.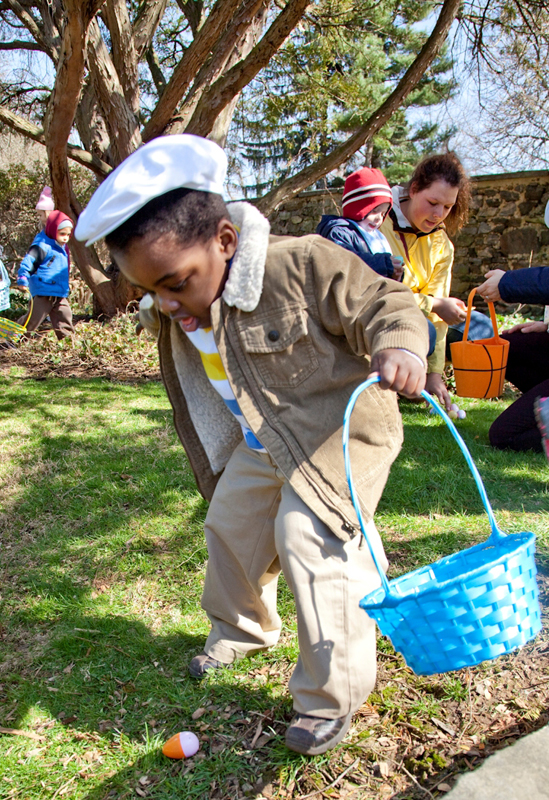 Even if Easter isn't your religious holiday, who doesn't have a great time decorating Easter eggs, munching on chocolate eggs and bunny rabbits, and admiring the bonnets in the New York City Easter Day Parade? All families have their own traditions, but here are our suggestions for celebrating with your kids this year.
NYC Easter Egg Hunts
March 23: Head to the Bronx's Bartow-Pell Mansion Museum for an Easter Egg Hunt where kids ages 2-12 can hunt for eggs (bring your own basket), make holiday crafts, and meet the Easter Bunny.
March 30-31: The whole family can join together for an Easter Egg Scavenger Hunt at the Children's Museum of Manhattan (212 W. 83rd St., Upper West Side). Find all six of the hidden eggs to receive a prize. Pick up your Easter Egg Hunt Sheet at the Visitor Information Desk. Free with museum admission.
At the Spring Eggstaravanga at Queens Zoo in Flushing Meadows Corona Park, take part in an egg hunt, meet the Easter Bunny and the Flemish giant rabbits, and enjoy a variety of spring-themed activities. Plus, participants will have the chance to enter to win tickets to see Disney's Phineas and Ferb Live Tour.
March 30: Another neighboring borough (Queens) will host the largest Easter egg hunt in NYC – and it's FREE! The 12th annual Easter Egg Hunt in Saint Albans Park will feature live performances, rides, games, ponies, popcorn and cotton candy, and more.
The Queens County Farm Museum in Floral Park will hold its annual Barnyard Easter Egg Hunt in the orchard. Egg hunts will be ongoing throughout the day. "Whiskers" the bunny will be hopping around the farm to greet children and pose for pictures, bring your camera. Dance the "Bunny Hop", play egg toss and egg rolling games on the farmhouse lawn. Visit the farm animals and take a hayride.
March 31: Kids can enjoy the Petting Zoo and Easter Egg Hunt at The Standard, High Line (884 Washington St.). The Egg Hunt is 10am-12pm, and the Petting Zoo will be open 10am-2pm. For more information, call 212-645-4100.
Where to Decorate Easter Eggs
March 23: At The Cathedral Church of Saint John the Divine's (1047 Amsterdam Ave., Upper West Side) Easter Eggs: A Family Eggstravaganza, kids can decorate Easter eggs using tissue paper, glitter, glue, and paint, and build a nest for decorated eggs from twigs, feathers, and clay. Bring two hard-boiled eggs per child. Reservations recommended.
March 30-31: Before or after the Easter Egg Scavenger Hunt, kids can make an Easter Egg Collage or create their own Easter Egg Designs at the Children's Museum of Manhattan (212 W. 83rd St., Upper West Side). Free with museum admission.
Where to See the Easter Parade
March 31: Don't miss the Easter Parade and Easter Bonnet Festival, where you're sure to spy lots of interesting and elaborate headgear (think hats made of carrots or shaped like the NYC skyline) in the name of holiday tradition. The parade marches north on Fifth Avenue but is best viewed from the area around St. Patrick's Cathedral (460 Madison Ave., Midtown). FREE!
Easter Photos
March 9-30: Get your photos with the Easter Bunny at Queens Center Mall in Elmhurst. It's free to meet the Easter Bunny; cost of photos is additional.
Turn the holiday into a memory with a Live Baby Chick Photoshoot at Big Apple Portraits. Kids can pose with live baby chicks, and the studio will waive the sitting fee. Sessions start March 14. Book online at bigappleportraits.com/book. And don't worry, animal lovers—once the chicks finish up with their glamour shots in Manhattan they'll be transferred to a chicken coop where they can grow up to be happy backyard chickens.
More Fun
Search for even more fun family activities in NYC in our full calendar of events