FastBreak Sports, a sports and athletic training facility on the Upper East Side, now offers a program for preschoolers ages 2-5. The preschool program FastBreak Kids teaches youngsters a variety of age-appropriate sports and skills including baseball, basketball, and flag football. The facility also offers teams and leagues for children in Manhattan to improve athletic ability and inspire self-confidence.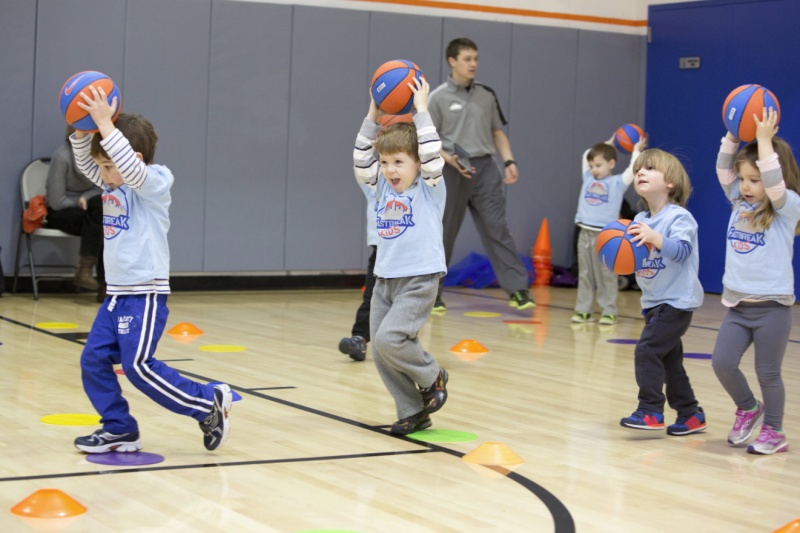 Three-year-olds work on their basketball skills in the FastBreak Kids class at FastBreak Sports.
FastBreak Sports opened its doors to the public in November with a mission to provide sports and athletic training to children and teenagers in a state-of-the-art facility on the Upper East Side.
Boasting itself as "Manhattan's No. 1 basketball and sports program for kids and teens," the movie-theater-turned-sports-facility provides youth with classes, teams, and leagues to improve athletic abilities, inspire self-confident mindsets, and teach leadership and teamwork traits.
FastBreak Kids, the division for children ages 2-5, offers daily, multi-sport classes that expose children to age-appropriate skills and sports. Every two to three weeks, a new sport is taught to the participating children, including baseball, basketball, flag football, floor hockey, and soccer.
For children in kindergarten-high school, after-school and evening basketball classes, lessons, teams, and leagues are available.
"We are solely a sports activity center," president and co-founder Lonny Levine says. "Where other facilities that cater to all children do music and art and tumbling and karate, we are teachers of team sports."
Pricing and an up-to-date schedule can be found on the company's website.