The DiMenna Children's History Museum hosted its first-ever family benefit party on Jan. 26 where more than 700 families attended and helped raise money for the museum.
On Saturday, Jan. 26, The DiMenna Children's History Museum at the New-York Historical Society hosted its first-ever Family Benefit Party, Passport Through American History. The Family Benefit Party was "a fantasy world created for 700-plus families, showing that history is serious fun," said New-York Historical Society president and CEO Louise Mirrer.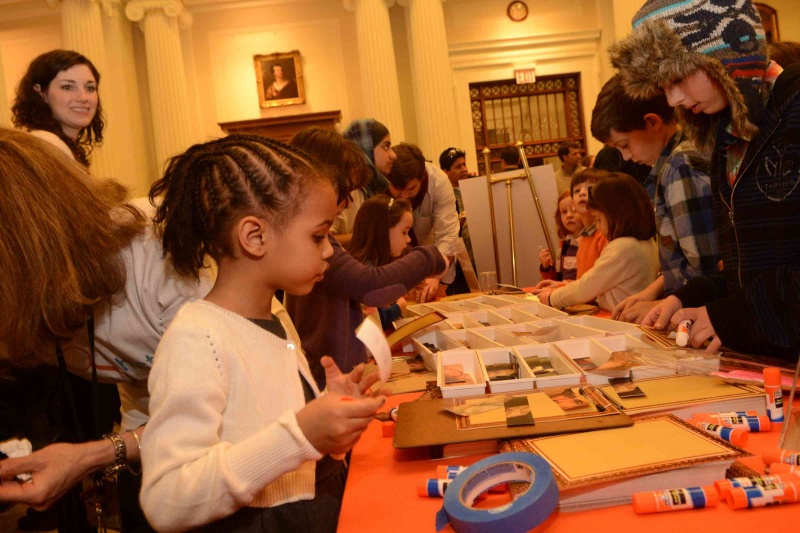 Children, parents, and grandparents collected "passport stamps" by traveling through American history, donning period costumes, posing for portraits, tasting ice cream from a 17th-century colonial recipe that they churned by hand, and recreating the signing of the Declaration of Independence. Families also met some of the groundbreaking "characters" from New York's past, including pioneering African-American physician James McCune Smith (who had on hand the live leeches he might have used to treat patients), an elegant lady of the Gilded Age, a Newsie from the Newsboy Strike of 1899, and a soldier from World War II. Special thanks to the generosity of event sponsor, designer Yliana Yepez, and to Eleni's New York, for their cookie and activity donation.

Proceeds from the Family Benefit will help the institution continue to provide an interactive, entertaining experience for children and families, helping young visitors learn by making discoveries about our ancestors who shaped the nation. This support helps the DiMenna Children's History Museum and the New-York Historical Society care for a priceless collection, made fully accessible to the public, and provides education programs with the resources to serve over 200,000 New York City public school students with both on-site and in-school programming each year, and thousands of teachers in Professional Development training throughout the year.
About the DiMenna Children's History Museum
The DiMenna Children's History Museum is a museum-within-a-museum and occupies the New-York Historical Society¹s entire lower level. It covers 350 years of New York and American history and includes character-based pavilions, interactive exhibits and digital games, and the Barbara K. Lipman Children¹s History Library. Families explore and learn together, through visiting the museum and participating in intergenerational family learning programs. All ages can enjoy and learn in the DiMenna Children's History Museum, but the exhibits are targeted at age 8-13.
Kids' Clubhouse Online
Check out our online interactive site for families and kids ages 6 and older. In the clubhouse, kids play online history games (Sloppy Copy and Meet the People of New Amsterdam). Log-in, save earned points, and decorate your clubhouse. Check out History Detectives, ­ New-York Historical's blog for kids ­ catch up on cool historical objects and facts, and read interviews with authors.
About the New-York Historical Society
The New-York Historical Society, one of America's pre-eminent cultural institutions, is dedicated to fostering research and presenting history and art exhibitions and public programs that reveal the dynamism of history and its influence on the world of today. Founded in 1804, New-York Historical has a mission to explore the richly layered history
of New York City and State and the country, and to serve as a national forum for the discussion of issues surrounding the making and meaning of history.
New-York Historical is recognized for engaging the public with deeply researched and far-ranging exhibitions, such as WWII & NYC, which is currently on display until May; Alexander Hamilton: The Man Who Made Modern America; Slavery in New York; Drawn by New York: Six Centuries of Watercolors and Drawings at the New-York Historical Society; Grant and Lee in War and Peace; Lincoln and New York; Nueva York (1613­1945); and Revolution! The Atlantic World Reborn. Supporting these exhibitions and
related education programs is one of the world's greatest collections of historical artifacts, works of American art, and other materials documenting the history of the United States and New York.