Find fun and low-cost things to do with your kids in Manhattan this June, including the Museum Mile Festival, a CD release party, new exhibits, and more in Midtown, Upper East Side, Upper West Side, Lower Manhattan, Chelsea, and nearby in the Bronx.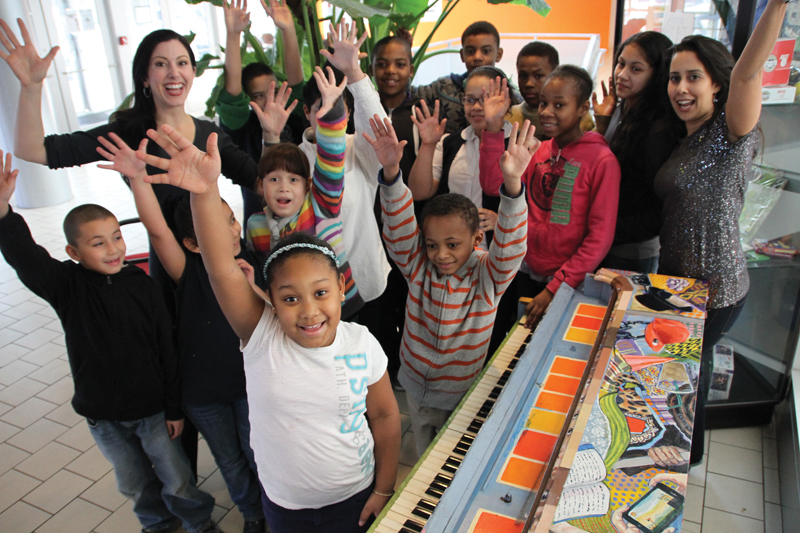 Sing for Hope Pianos
Throughout NYC
June 1-16
One of the greatest things about this city is its propensity to surprise its dwellers. Whether you're 4, 44, or 104 years old, you're sure to find delight in Sing for Hope Pianos, which return to our city streets this year June 1-16. The project, made possible this year through support from Chobani, Inc., works with artists to paint refurbished pianos and then place them outdoors throughout the city's five boroughs as part of a public art installation to be enjoyed and played by all. Artists who have customized pianos in previous years include Dianne Von Furstenberg, Isaac Mizrahi, Scott Taylor, and more. After June 16, the pianos will live on at schools and organizations throughout the city where they will continue to be played and enjoyed. FREE!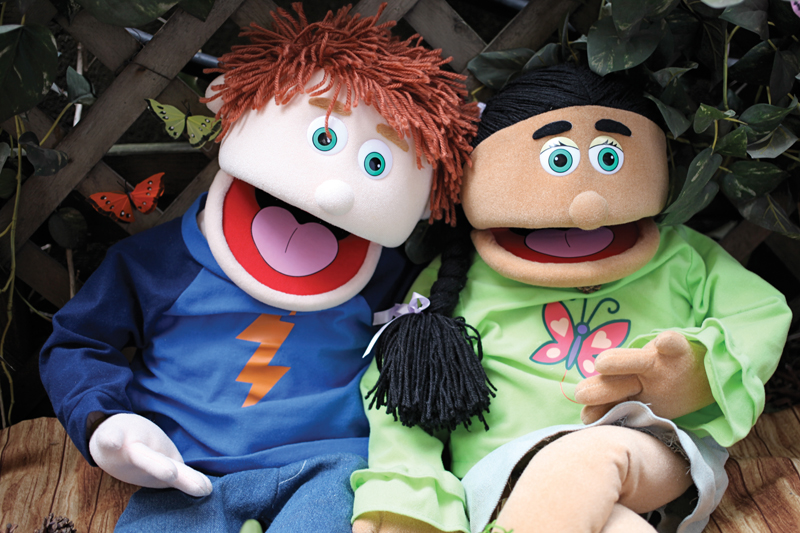 'My City Park'
Aguilar Library, Upper East Side
June 5
Making Books Sing, the critically acclaimed family theater and arts education nonprofit, is teaming up with the New York Public Library again this summer to present its new touring production, My City Park, a 45-minute educational performance featuring puppetry, original songs, and audience participation. Geared toward kids ages 3-10, the show promotes the value of shared green community spaces within urban settings through songs that celebrate our very own New York City. When the star, Milo, discovers his favorite city park is scheduled to be torn down and replaced with a shopping mall, he springs into action to save the day. Through Milo's adventure, kids will learn about nature and why it's so important. My City Park will perform at libraries throughout Manhattan all summer long, but its kick-off performance (and only June performance!) takes place June 5 at 12:30pm. FREE!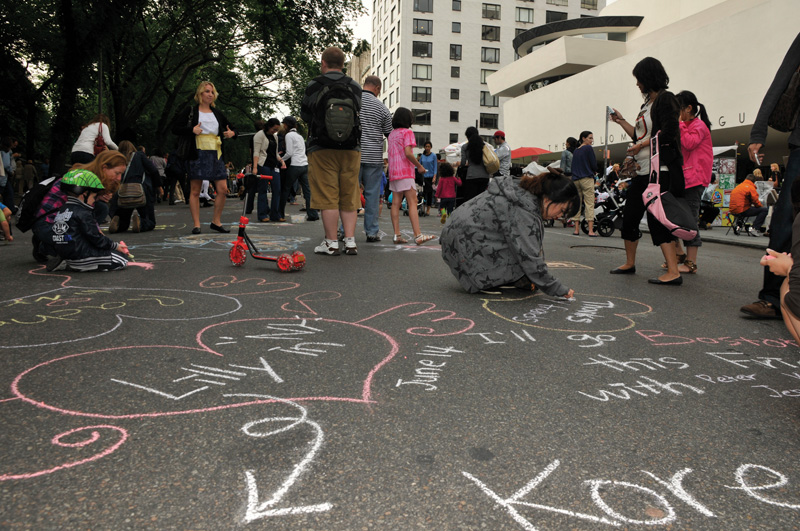 Museum Mile Festival
Fifth Avenue between 82nd Street and 105th Street, Upper East Side
June 11
It oftens seems impossible to visit all the museums Manhattan has to offer on its Upper East Side, seeing as there are just so many of them! But for one day in June, you have absolutely no excuses: The Museum Mile Festival, now in its 35th year, is an opportunity for museum-goers of all ages to visit nine of New York City's finest cultural institutions, all for free. Fifth Avenue will be closed to traffic to create the perfect stroller haven, special exhibitions and works from permanent collections will be on view inside the museum's galleries, live music from jazz to Broadway tunes to string quartets will be featured outside several of the museums, and there will be tons of outdoor activities for kids and adults alike. Participating museums include El Museo del Barrio, The Museum of the City of New York, The Jewish Museum, Solomon R. Guggenheim Museum, and The Metropolitan Museum of Art, among others. The opening ceremony takes place at 5:45pm at The Jewish Museum (Fifth Avenue and 92nd Street). FREE!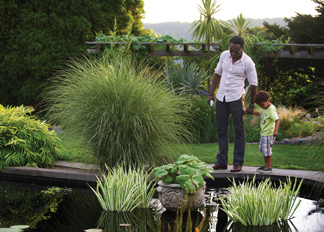 Father's Day Fun
Throughout NYC
June 16
June 16 is the day to celebrate Dad in all his glory. Luckily, there are many ways to do just that in NYC, with Father's Day activities ranging from sporty to tasty to crafty. Pick the right option for your family from our Father's Day activities guide, which includes four family events in Manhattan.
Joanie Leeds & the Nightlights' CD Release Party
JCC Manhattan, Manhattan
June 19
Kindie rock group Joanie Leeds & The Nightlights is ready to raise the roof in celebration of the June release of its new CD, Bandwagon. The band will perform a rockin' rooftop family show on JCC Manhattan's Meyerson Family Rooftop Terrace, as part of the JCC's Rooftop-A-Palooza series. The show promises to be an up-close-and-personal experience. Families can enjoy a pizza dinner with the band, water and sand play, and a raffle in which prizes include copies of the Bandwagon. Temporary tattoos will be given as prizes to the best dancers in the room (or in this case, on the roof!).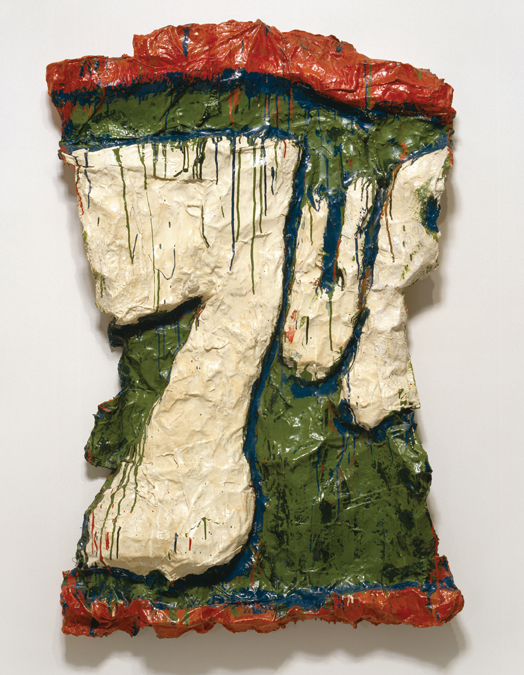 The Street and The Store
Museum of Modern Art (MoMA), Midtown West
Through Aug. 5
It's always exciting to take the little ones to MoMA, as the museum consistently presents intriguing modern art and offers a great experience for all ages. The Claes Oldenburg exhibition, The Street and The Store, is no exception. It focuses on the artist's early career and brings together a number of his famed soft sculptures, which means kids will be awed by an enormous, 7-foot-round hamburger, an 11-foot-long ice cream cone, a giant BLT sandwich and slice of cake, and smaller sculptures including pastries, cheeseburgers, girls' dresses, and tennis shoes. This exhibition opened in April and runs through Aug. 5.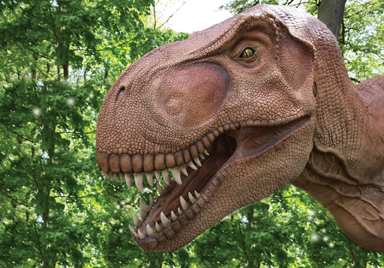 Dinosaur Safari
Wildlife Conservation Society's Bronx Zoo, Bronx
Memorial Day Weekend through Sept. 8
If your kids wish they could travel back in time to learn more about what came before us, they'll be delighted when you take them to the Bronx Zoo's Dinosaur Safari, which opened Memorial Day Weekend and runs through Sept. 8. The safari includes a ride through the Cretaceous and Jurassic periods and features more than two dozen animatronic dinosaurs up to 40 feet long that move, snarl, roar, and even spit. Guests also take a ride through a 2-acre area of the zoo where a guide will highlight the physical or behavioral adaptions many dinos share with species that are alive today.
Dino-related activities for visitors to the exhibit include Adaptions! A Dinosaur Musical (Wednesday-Sunday at 12:30pm, 1:15pm, 2pm, 2:45pm, and 3:30pm), a crafting station where kids can dig for or assemble dinosaur fossils to take home (Saturday-Sunday, 11am-4pm), and a meet and greet with author James Gurney of the Dinotopia series (June 29-30 at 1pm, 2:30pm, and 3:30pm).
More Fun
Check out our guide to carousels in the New York City area
Find amusement parks in NY, as well as NJ, and CT
Search our full calendar of events for more fun family activities